Published 31-03-2020
| Article appears in April 2020 Issue
Hyster introduces big forklift with an advanced and ergonomic new cabin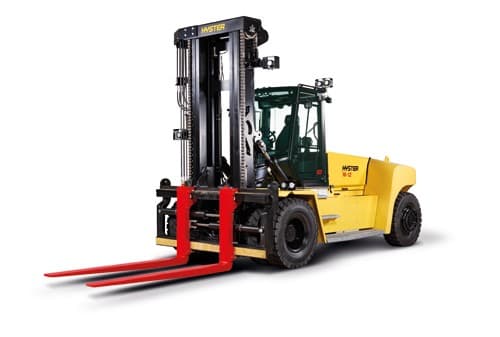 Leading materials handling equipment provider Hyster is introducing a new big truck with a series of cabin upgrades for enhanced user comfort and visibility.
Hyster's new H16-18XD series big trucks can efficiently handle up to 16 or 18 tonnes, depending on the model, and are backed by the outstanding quality of the Hyster brand and its network of dealers that provide fast, reliable service.
"The new range is cost-efficient and hard-working, but with industry-leading levels of user comfort, visibility and control to make the operator's job as efficient as possible," said Hyster-Yale Vice President, Big Trucks and Solutions, JAPIC, Mr Tony Fagg.
The new H16-18XD series of Hyster big trucks – which is being introduced to Australia, New Zealand and Asia-Pacific this month as part of a global launch – is one of the first ranges to feature the new XD cabin, which is designed to provide a boost to productivity and comfort for operators in industries such as materials handling, ports, logistics, food and beverage, and more.
Advanced new cabin
Hyster's new cabin provides a 'cockpit-style' workplace by positioning all truck information and controls at the operator's fingertips. It includes a high-quality interior finish with a seven-inch touchscreen display, rotary button controls on the armrest and outstanding soundproofing to minimise cabin noise and assist with operator concentration.
"The new cabin has heating and climate control, ample floor space and a range of features designed for user comfort. Hyster developed the new cabin because the company understands that a comfortable operator is a productive operator," said Mr Fagg.
The new cabin is designed for excellent all-round operator visibility with curved, scratch-resistant front and rear windows, armoured glass top window and toughened glass doors, with a slimline steel frame.
"With the new cabin, operators can lift high with minimal obstruction to visibility due to the tall front window and full glass panel overhead," Mr Fagg said. "The cab is designed for excellent visibility during driving, reversing and manoeuvring. With the largest full glass panel doors in the industry and class-leading headspace, operators can also get in and out of the cab easily, even when wearing a hardhat."
Enhanced flexibility, simplified maintenance
The H16-18XD series' new cabin provides simple maintenance, due to universal architecture, a reduced number of unique components and a common interface across all product lines.
Additionally, the new cabin provides greater flexibility, both for the operator, and for fleet managers, with new features including:
• increased possibilities and options to change settings to optimise the truck for particular applications and personal preferences
• a CAN bus system that provides direct information to the service mechanic and reduces wires and additional interfaces and displays
• a new structure with additional driver space and optional trainer seat
• a lateral sliding seat to provide space for a trainer seat.
"The new cabin has outstanding flexibility, and can be easily tailored to different applications. For example, if the operator is working at night, the display can automatically dim for less distraction and the control arm panels all have back light options, so the switches illuminate when active or an option is present."