HYSPECS UNVEILS WIRELESS BLUETOOTH PRESSURE TRANSDUCER
09-05-2015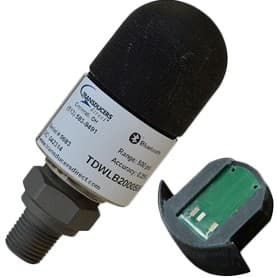 Hyspecs, a leading privately owned hydraulic engineering company, has introduced to the Australian market the world's first pressure transducer to feature certified wireless Bluetooth technology.
The Transducers Direct TDWLB uses a patent pending design to connect transducers to tablets and smartphones through the use of a downloadable free app.
This transducer can be used anywhere you need to monitor pressure and temperature without the need for wires.
"This is one of our most exciting new products," says Hyspecs Marketing Manager Nick Cottier. "There are potentially thousands of different applications where this transducer can be used. This includes places where access is limited, restrictive, complicated or just time consuming such as hulls of boats, roof tops or hot industrial areas."
Getting started is easy as 1, 2, 3. Download the free app, install the transducer and wirelessly connect – no confusing wiring to figure out.
Special features:
·       Connects to smart phones, tablets, PCs with BLE (Bluetooth Low Energy). Range: 45m line of sight. The distance achieved will be affected by walls or other barriers.
·       Pressure ranges from Vacuum to 345 bar. Higher pressures on request.
·       Long battery life (proprietary technology): 12-18 months, typical
·       1% Standard accuracy with optional 0.25% ultra high accuracy
·       Stainless steel high impact polycarbonate construction
·       Alarm set points
·       Secure field programmable naming
·       Patent pending design
·       Schrader, NPT, SAE and G 1/4 pressure connection
·       Operating Temperatures:  -10° to 85°C (14°to 185°F)
·       The free Transducers Direct App is downloadable for the iPad and iPhone from the iTunes Store (Search "TDWLB"). Offering a demo mode to get you started, you will see how you can view pressure, set high and low set points/alarms, and see the pressure trends over time.
Future software releases will include an Android App and a version for the PC.
Due to popularity there was a waiting list for this product, so Hyspecs has increased the order to meet the increased demand.
For more information contact Hyspecs and talk to an expert sales engineer.
Hyspecs
Ph: 1800 497 700