Hypertension linked to shift work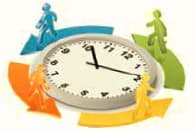 A recent study has found that shift workers face a greater risk of developing hypertension – regardless of their weight.
Japanese researchers studied 9209 daytime workers and 964 workers on a three-shift rotation from a manufacturing company.
The study found 3386 cases of hypertension (high blood pressure) reported over a 28-year period.
And the results showed shift workers were more likely to develop hypertension than daytime workers.
Previous studies showed shift workers were "a population at high risk for developing obesity, and obesity is in turn a reported risk factor for hypertension."
This suggested the risk arose from weight gain caused by shift work, rather than shift work itself.
But the latest study showed the relative risk of hypertension was significantly elevated among shift workers without obesity.
That means the actual shift work was a risk factor – regardless of body weight.
The study also found that shift workers who reported having trouble falling asleep, waking up repeatedly and experiencing daytime sleepiness, were at an increased risk of developing hypertension.
The results were published in the Journal of Occupational and Environmental Medicine.