HYGROMETERS KEEP CHECK ON ULTRA-HIGH-PRESSURE AIR
27-04-2017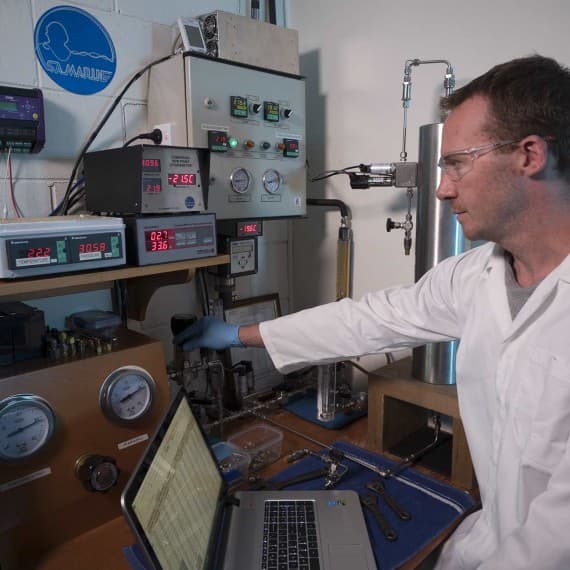 Michell hygrometers, available from AMS Instrumentation & Calibration, play a crucial role in the preparation of UHP air for use in underwater applications.
UHP (ultra-high-pressure) air is supplied at up to 450bar(g), rather than the 7bar(g) typical of commercial compressed air. And because of this high pressure, the air used must be free from moisture, which would otherwise condense at such a high pressure.
One of the major applications for UHP air is in submarines, where the additional pressure makes it particularly useful for blowing ballast tanks to enable the boat to rise to the surface. However, the low subsea temperatures place even greater demands on the purity of the air, as any moisture could easily turn to ice and, blocking or damaging equipment and disabling the submarine.
Australian company S.A. Marine specialises in evaluating and testing UHP air systems. The company uses a desiccant dryer to remove any vapour from the air. And an online Michell hygrometer is used to measure the water dew point at delivery. The Michell hygrometer has a ceramic impedance sensor that can measure the dew-point temperature at line pressure, complete confidence in the measurements.
They S.A. Marine also offers an inspection service for breathing air cylinder-filling apparatus for both naval and commercial customers. In this application, excessive moisture can allow bacteria to grow and pose health problems for the users. In this instance, S.A. Marine uses a Michell chilled mirror hygrometer as a high-precision calibration reference on a test rig at its headquarters.
According to Greg Fahill, MD of S.A. Marine: "Michell offers the only hygrometers we have found to be reliable at UHP conditions."
AMS Instrumentation & Calibration
03 9017 8225
www.ams-ic.com.au