HYGIENIC GEAR MOTORS MOVE INTO WASHDOWN FOOD APPLICATIONS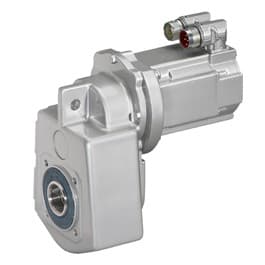 Kollmorgen has released new versions of its AKM4 and AKM6 gear motors for washdown food applications. The AKM41E-BF06 and AKM62K-BK17 are available in Australia from Motion Technologies.
Designed for transport and rotation applications in the food, beverage and packaging industries, each of the new gear motors combines an AKM servomotor with highly efficient gearheads and the AKD servo drive with Ethercat.
The ready-to-install drive units have a consistent, hygienic design with smooth and water-repellent surfaces that significantly reduce cleaning times. The highly efficient motor/gearhead combinations reduce machine power consumption. And the integrated assembly needs no further stainless-steel casing or shrouding, thereby simplifying machine design.
Thanks to the use of FDA-compliant materials and the specially rounded housing design, these Kollmorgen gear motors meet the highest hygiene standards and reduce the risk of product contamination and recall campaigns.
Motion Technologies
02 9524 4782
www.motiontech.com.au