HYGIENIC FOOD PRODUCTION BEGINS FROM THE FLOOR UP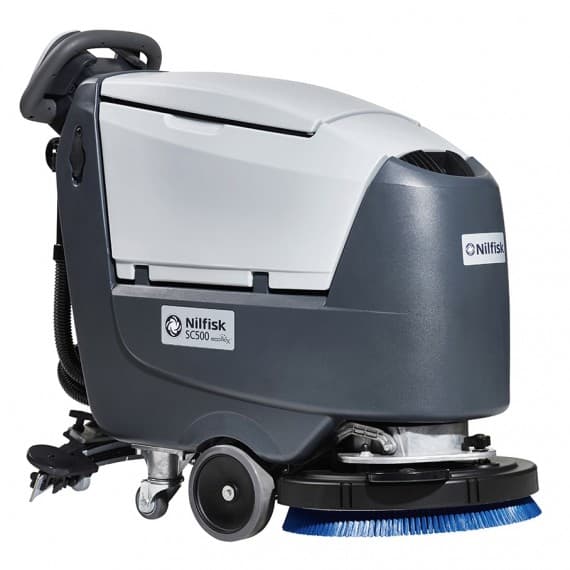 Nilfisk has recently introduced into SC500 scrubber dryer to make cleaning floors safer and more effective.
With every detail designed to make the process in food production environments easier, the SC500 represents innovation and quality in one of the world's leading manufacturers of industrial cleaning equipment
With SmartFlowTM and optional EcoFlexTM technology, the new Nilfisk SC50, is innovative and cost effective.
By enabling daytime cleaning the scrubber is able to save costs, and no-tools brush and squeegee changes only increase savings.
The modern design is engineered to provide a better control and improved sightlines.
Unlike traditional cleaners that apply more water and cleaning solution then is needed, the SmartFlowTM technology eliminates the extra dispersion by automatically reducing the solution flow rate when the machine slows, extending the productivity per tank.
The larger tanks, and lessened solution, extend the time between dump and refill cycles by as much as 50%, and with the less solution used the SmartFlowTM saves money, and reduces risk of slips and falls.
The Nilflisk SC500 offers high productivity working times, and can work on more than five hours fully charged, with the chemical resistant polyethelene tanks each able to carry 45 litres.
The optional Nilfisk EcoflexTM system allows the operator to control the use of water and detergent without compromising on the quality of cleaning.
There is a new 2-key system added to insure that that the operation of the Nilfisk SC500 is made both easier and safer. The two being, a yellow super user key for changing all major settings and controlling all major functions and then the grey operator key for every day use without compromising the decisions made on cleaning efficiency.
Nilfisk
1300 556 710
https://www.nilfisk.com/