HYGIENIC DRAINAGE DESIGN IS INTEGRAL TO FOOD SAFETY
08-05-2018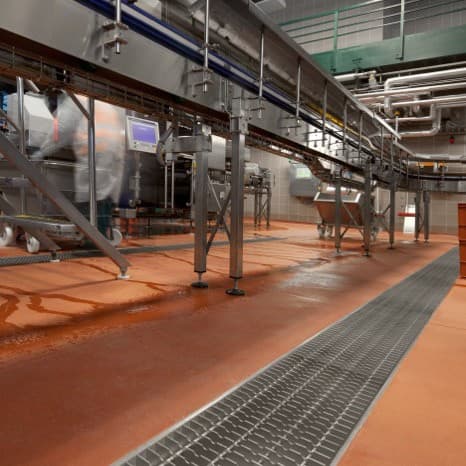 In food processing environments from restaurants to manufacturing plant, hygienic practices are the norm. However, once the equipment has been cleaned, the cleaning water and products are swept or washed down into the drainage system via a grate and into the floor gully.
With many drainage systems, the design of the grate, floor gully and drainage channel makes it difficult to clean thoroughly, creating sites for potential bacteria growth that can spread via foot traffic or washdown spray.
ACO Australia has made a strong commitment to hygienic drainage systems with its HygieneFirst philosophy. The company's grates, gullies and channels are designed for superior performance, safety and 'cleanability' to ensure products are completely cleanable to achieve the greatest possible hygiene levels for food production and retail facilities.
Kate Jennings, Product Manager, ACO Australia says: "The drain's primary objective is to remove wastewater, be easily cleaned and subsequently be kept clean. If drainage is designed and installed correctly, it will reduce the bacteria that can harbour in joins, corners or crevices that occur with poor designs, thereby reducing the overall risk of contamination and food spoilage."
Made of stainless steel for corrosion resistance and easy cleaning, ACOs grates, floor gullies and channels are constructed to give round edges for safe and easy handling and smooth contours that won't trap contaminants. Moreover, the grates are slip resistant to minimise the risk of injury in the workplace.
The level and frequency of cleaning is determined for the most part by the room's hygienic risk profile. For example, in areas where food preparation is carried out for ready to eat meals, the moisture level of the food is higher and therefore more likely to encourage bacteria growth in poorly maintained environments.
"Assessing the risk with HACCP will determine the frequency and depth of the clean," says Jennings. "Regular maintenance and inspection is often overlooked and must be part of the overall cleaning procedure for the floor and drainage system to ensure a safe food preparation environment."
ACO Australia
1300 765 266
www.acoaus.com.au