Safety in the Workplace, Product News
Published 02-03-2021
| Article appears in February 2021 Issue
A Hygenius way of handling food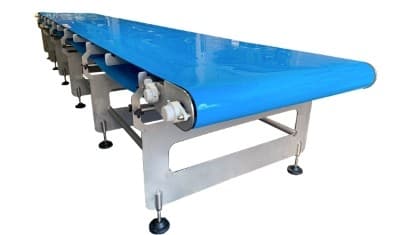 A new conveyor belt system aims to revolutionise the handling of food by minimising cross contamination and reducing downtime.
Australis Engineering introduces the Hygenius Food Grade Conveyors – the truly clean and hygienic conveyor. Perfect for raw meat, poultry, seafood, pet food, fruit and veggies and dairy.
Designed with European Hygienic Engineering Design Group principles and certified components, Hygenius takes less than two minutes to disassemble and reassemble – all without tooling.
EHEDG approved components such as Volta polyurethane belts, washdown rated, hygienic motors, washdown rated bearings and hygienic feet are utilised. The design also eliminates exposed screw threads and incorporates our unique, Clean Belt Tensioning and Tracking System.
With safety at the forefront, the Hygenius food grade conveyors open frame design also has fully guarded head and tail areas for operator safety. This is a requirement that is often overlooked in other wash down conveyors.
The conveyor system is specifically designed to minimise areas where food or product can accumulate which reduces the risk of bacterial contamination of your product. Importantly, this also allows for a faster cleaning process and with significantly less cracks and crevices, allows for a more thorough cleaning process. By reducing the potential for bacterial growth, you can improve food safety for your customers.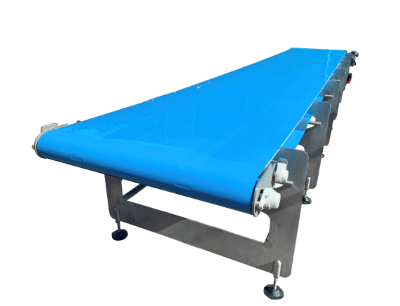 Key features and options:
Washdown ready
Volta SuperDrive and Mini-SuperDrive Belts
Clean belt tensioning and tracking
Quick belt release for easy belt removal
Belt lifter for cleaning underneath the belt
Toolless removal of the belt running strips for fast and easy cleaning
Fully guarded head and tail pulleys for safety
Quick remove belt return rollers
Full 304 Stainless Steel construction or 316 Stainless Steel option
Anti-bacterial plastic running strips (optional)
Stainless steel motors, NSD TupH treated motors and Teflon coated motor options
Established in 1983, Australis Engineering are a multi-faceted machinery manufacturer. They use their decades of experience to manufacture, conveyors, palletisers, pallet handling equipment, materials handling equipment and robotic solutions.
They have a strong engineering design focus and apply mechanical and industrial automation expertise across a range of industries results in smart thinking and innovation. In-house engineering and trade experts mean customers have direct access to the designers and technicians who are delivering solutions.