HYDROGEN PRODUCTION PROVIDES RENEWABLE BENEFITS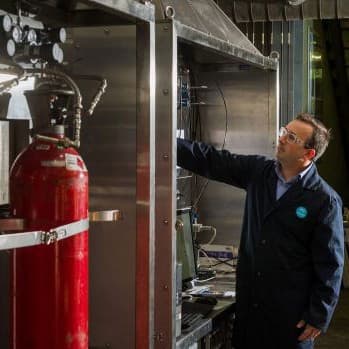 Does hydrogen have a role to play in the future of Australia's energy economy?
CSIRO has launched its new Future Science Platforms initiative, aiming to make Australia a renewable energy exporter and hydrogen fuel hotspot.
The programme centers around an investment of AU$13.5 million into hydrogen fuel research and tailored health solutions.
The development of a hydrogen platform is aimed at sparking the creation of new technologies that will enable Australia to export its solar energy and a low-emissions energy source.
"Under our strategy 2020, we're committed to increasing funding for science that underpins innovation and will reinvent and create new industries and jobs for Australia's future," CSRIO chief executive Larry Marshall said.
"Today's announcement adds two new Future Science Platforms to our portfolio, which will transform two of Australia's most critical sectors – energy and health," Dr Marshall said.
He said that hydrogen, which has been hailed by some as the 'energy source of the future', also has the potential to act as energy storage in order to stabilise the grid.
"The opportunity for Australia is clear – we have access to vast energy resources through sun, wind, biomass, natural gas and coal, all of which can be used to produce hydrogen, allowing us to potentially become a leading exporter of new low to zero emissions energy," Dr Marshall said.
"Aussie sunshine can be exported all around the world as renewable, sustainable energy," he said at the National Press Club.
CSIRO energy director Karl Rodrigues said the platform will research low emissions, energy efficient ways of generating hydrogen.
"We could literally bottle our sunshine through electrolysis and sell it," Dr Rodrigues said.
He said much of the demand is currently coming from Japan, adding that there is also growing industry interest in Australia.
"This is a great opportunity to take a global leadership position in new technology," he said.