HYDROGEN-POWERED FORKLIFTS ARRIVE IN AUSTRALIA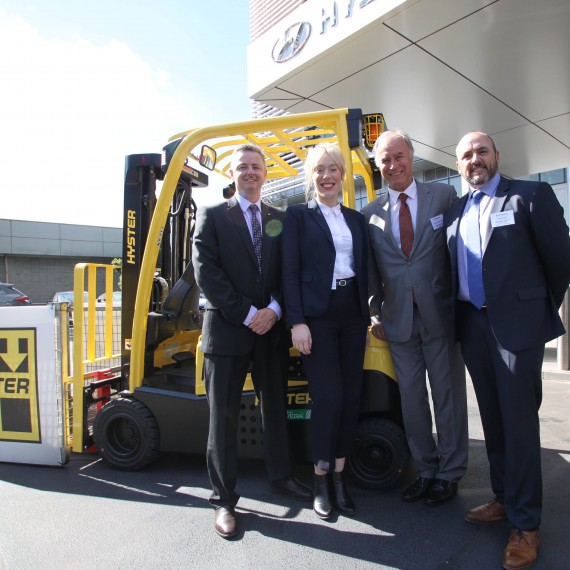 Hyster has demonstrated what it claims is Australia's first hydrogen-powered forklift. The 1.8-tonne unit was unveiled at a ceremony in Sydney by Hyster-Yale Asia-Pacific Managing Director, Tony Fagg (pictured right).
Also involved in the launch (pictured from from left), Scott Nargar, Manager of Future Mobility and Government Relations, Hyundai Motor Company Australia; Claire Johnson, Chief Executive Officer, Hydrogen Mobility Australia; and John Alexander, MP for Bennelong.
"These new hard-working forklifts comprise a production-tested Hyster range that complements our existing globally respected ranges and is backed by the distribution and technical resources of Hyster-Yale Group, which produces forklifts for the toughest working conditions in capacities from 1-52 tonnes," said Fagg.
Hyster's hydrogen-powered ranges use durable high-performance Nuvera fuel cell systems, which are fast-fuelled power options that replace lead-acid batteries in Class I, II, and III electric lift trucks. The Nuvera fuel cell system, acquired by Hyster-Yale in 2014, is designed and built to provide customer return on investment over the lifecycle of the product.
The hydrogen fuel cell powered forklifts can be refuelled in as little as three minutes, which saves significant downtime compared with battery-operated forklifts that can take up to 8 hours to recharge.
The key barrier to the adoption of hydrogen-powered vehicles in Australia is a lack of hydrogen infrastructure, which is the priority of Hydrogen Mobility Australia (HMA), a recently formed association that includes vehicle manufacturers Hyundai and Toyota among its membership – along with latest recruit Hyster-Yale.
The reason the forklift launch was held at the Hyundai Motor Company Australia base in Sydney was that it has one of the few hydrogen refuelling stations in Australia.
Speaking at the launch, HMA CEO Claire Johnson pointed to increased adoption of hydrogen-powered forklifts worldwide – notably by Walmart and Amazon in the USA - said: "It is evident that hydrogen is poised to capture a much larger share of the overall market for materials handling equipment around the world, and now most importantly, here in Australia."
Hyster-Yale Asia-Pacific
www.hyster.com