HYDRO PROJECTS PUMP UP HOPE FOR CLEAN STORAGE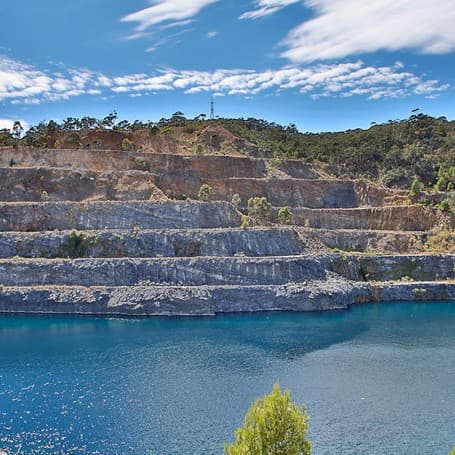 The former Highbury quarry (above) on the outskirts of Adelaide is one of the proposed pumped hydro storage sites.
Five significant hydro energy storage projects have been granted government support in South Australia, as the state moves to secure its position as a national and global renewable energy leader.
The projects, located primarily in the state's North near several large-scale wind and solar projects, would provide more than 1 Gigawatt of generation capacity to the South Australian grid.
Located at reservoirs and disused mine or quarry sites, the projects will generate a total investment of about $1.5 billion, creating an estimated 550 jobs while under construction.
The South Australian Government grants come from its $150 million Renewable Technology Fund, which aims to accelerate the transition to the next generation of renewable energy technologies.
Pumped hydro is a high-efficiency energy storage method that works by pumping water from a low holding area to an upper reservoir when electricity is plentiful, and then releasing the water from the upper reservoir through a turbine when additional electricity is needed. 
Altura Group Director Rosahlena Robinson said the project was in the final development phase to support an investment decision during 2018.
"The high level of current and future renewable generation in South Australia is ideally complemented by pumped hydro that can meet not only short term capacity needs, but also sustained energy requirements," she said.
The funding announcement is the latest in a string of renewable energy projects underway in South Australia.
In July, Tesla CEO Elon Musk flew into Adelaide to announce his company would use a $20 million grant from the Renewable Technology Fund partner with French renewable energy company Neoen to build the world's largest lithium-ion battery(100MW/129MWh) at Neoen's Hornsdale Wind Farm in the state's Mid-North.
The following month global company SolarReserve announced it would build a 150MW/1100MWh solar thermal power plant near Port Augusta.
Most recently, the South Australian government announced it was partnering with Tesla to create the world's largest Virtual Power Plant, linking up as many as 50,000 households with solar panels and batteries to create a 250mw power plant.
Abundant wind and sunshine, proximity to significant high capacity power lines and its relatively remote location on the edge of the Australian Outback makes the Mid North region of South Australia an ideal hub for renewable energy production.
South Australia leads the nation in the uptake of wind energy and rooftop solar with renewable sources accounting for almost 50 per cent of the electricity generated in the state.
However, the intermittent nature of renewable energy requires effective storage options to increase efficiency and help match electricity supply to the grid with demand.
Advocates of pumped hydro claim it is the cheapest form of storage currently used, had an operational lifetime of 50 years or more and could be used to stabilise a 100 per cent renewable grid.
South Australian Energy Minister Tom Koutsantonis said boosting competition by dispatching cheap renewable energy when demand was high was a key to lowering power prices in the state.
"Storage of renewable energy is the future and South Australia has entrenched itself as a hub for the development of large-scale storage projects," he said.
"We want to see as many of these projects as possible developed in South Australia and this funding will help these businesses accelerate the development of their pumped hydro projects."