Published 14-07-2020
| Article appears in August 2020 Issue
HYDRAULINK TAKES IT TO THE STREETS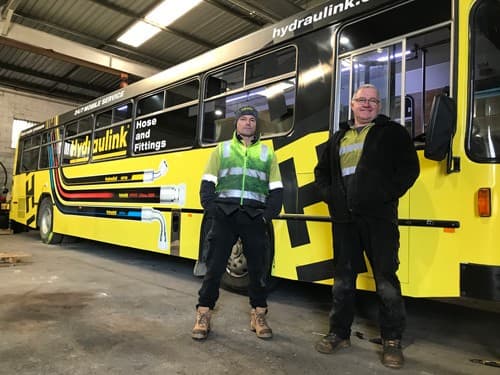 Hydraulink Campbelltown's Jeff McCoskery has taken mobile advertising one step beyond – by buying an entire bus and fitting it out as a combined workshop and billboard.
Surrounded by a variety of potential clients for his hydraulic hose and fitting service, McCoskery – already renowned for his attitude to outstanding service and getting the message out there – set up the bus to better spread the word locally.
"We have a huge number of potential clients out here," McCoskery says.
"The new airport at Badgerys Creek alone will create tens of thousands of jobs and involve massive infrastructure, earthworks, roads, transport and heavy machinery demand."
As south-west Sydney develops as a transport hub, demand from trucking, rail, forklifts, intermodal distribution, materials handling is expected to explode.
"But they have to know who you are and where you are."
McCoskery drew on a childhood inspiration – a vividly painted double-decker bus that used to roam the Western suburbs promoting motorcycles – to take his idea to the next level.
"We bought an ex-State transport Mercedes bus and I worked nearly every Saturday for months transforming it into a fully equipped mobile service centre, mobile billboard and mobile customer reception centre combined," he says.
"We have done the job totally ourselves using the standards of engineering we promise customers in handling their machinery."
The distinctive Hydraulink "Best Under Pressure" bus backs up its promise with a full workshop and spares facility within, and also includes a fridge, barbeque and a hospitality area for when the pressure's off.
"We were going to get a brightly decorated container on site at our Narellan headquarters to complement our workshop base there and to supply the utes we use to get onto sites that demand them for access, but this was a better idea," McCoskery says.
"Now we're unleashing a super-size surprise on unsuspecting audiences around the district. Everyone who has seen it so far says they can't believe it – they've never seen anything like it."
Hydraulink franchise manager Wayne Abbott says McCoskery's attitude epitomises and extends the can-do attitude of fellow franchisees among the 400 Hydraulink service points throughout Australia and New Zealand.
"Guys like Jeff are hugely motivated to get out and anticipate what the customer needs; quick responses, minimising downtime, reliable service, meeting tight deadlines and delivering global standards of safety and standards compliance across the network. They have a great story to tell, and what a way to tell it."
The Hydraulink team will celebrate the launch of the bus with a sausage sizzle for mechanics.
"These guys working at the coalface are integral to our teamwork with customers who want to optimise reliability, safety and uptime to industry-best levels," he says.
"By taking the bus to them rather than expecting them to come to us, we can get down to the nitty-gritty of their needs in a relaxed but professional way. We can show them, on the spot, the type of quality work we do."