Published 25-08-2020
| Article appears in August 2020 Issue
HYDRAULINK HELPS GET RUSH UP TO SPEED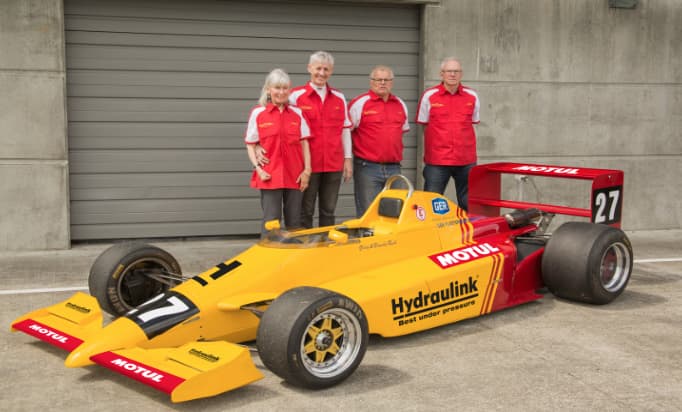 Formula Open NZ racing series winner and 2019-20 open wheeler title holder Gary Rush can't wait for the 2020-21 season to begin.
Rush won the latest series to join a pantheon of champion racers whose names are engraved on the fiercely contested Ultimate Echo trophy, including the likes of Howden Ganley (who went on to Formula One), Aussie Supercar success Ross Stone and Kiwi legend Kenny Smith, who won the cup aged 79.
"It was such a thrill to have my name alongside those of my boyhood heroes," Rush says.
"This is a dream come true and I will be out there as soon as we can sort out a programme amid this COVID situation."
Rush's winning effort was enthusiastically sponsored by Hydraulink, one of Australasia's leading hydraulic hose supply and service organisations with more than 400 service points across both countries and the Pacific Islands.
The Hydraulink name is emblazoned across Rush's Toyota-engined Swift DB4 Formula Atlantic, which gets a thorough workout when he's chasing lap times.
"The engine is a lovely little unit, which you're meant to keep up to 9500rpm – which I don't – but it completed more than 3000km of racing with top reliability, which is wonderful," he says.
"A big thank you to Hydraulink for its outstanding support."
Rush says the 20-21 series is shaping up to be a beauty, with Australian, US and English drivers expressing interest to join in once travel restrictions ease.
Meanwhile, Rush is sharpening his preparation for the competition head with pre-season meetings in his Swift. The 1600cc 498kg DB4s – the proven design of which is decades old – are maintained in pristine racing condition to remain as one of the fastest cars on racetracks.
They are capable of being within two seconds of outright lap records on most racetracks anywhere, says Rush, who finished his championship season just ahead of another DB4 driven by James Watson.
This season Rush will be up against a very exciting field, including five drivers who have invested in later-type Toyota race series single seaters, which Rush says have advantages and disadvantages.
"But I'm just looking forward to getting on the grid," he says.
"This is the realisation of a boyhood dream and I am profoundly grateful for the Hydraulink sponsorship."