Hydraulink gives wings to hope in upcoming America's Cup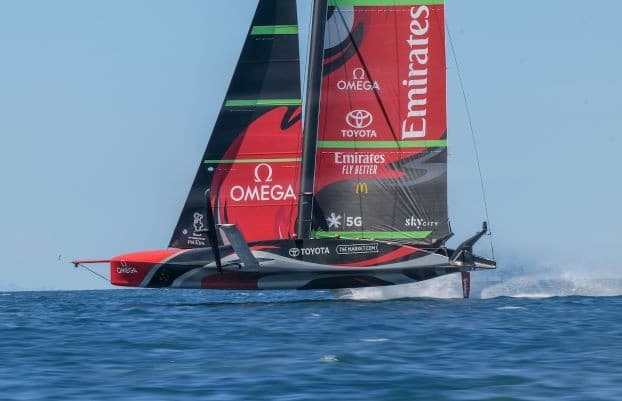 Industrial hose and fittings maintenance leader Hydraulink will have their products showcased on board the lightning-fast yachts at the upcoming America's Cup.
The defending champion Emirates Team New Zealand and all competitors vying for the prestigious Auld Mug will all use Hydraulink hoses and fittings to control their complex hydraulic systems, such as the vital foil cant technology.
The event, set for March 6th 2021 in Auckland's Waitemata Harbour, will be the 36th edition of the race, and feature competitors sailing in AC75s, 75-foot foiling monohulls.
Rapid and sensitive hydraulic actuation of the foils is vital to the performance edge of each boat as it skims above the waves at speeds reaching 47-50 knots (90+kph) in what is expected to be a lightning-fast defence series.
The super yachts demand quality products that perform where the absolute pinnacle of engineering standards and reliability is required, in the same way that Hydraulink protects the uptime and dependability of individual pieces of expensive machinery and multi-million-dollar mobile fleets and industrial plant.
Lee Short, Director of Hydraulink, says the company became involved in the America's Cup after seeing major issues with the boats during a race.
"I remember watching a race in 1995. A hydraulic leak on the mast boom of Team New Zealand sprayed oil into the cockpit, causing a few issues," he said.
"I thought, 'We can do better than that', so, when the team arrived back ready to defend the Cup, I organised a visit to Team New Zealand and offered our expertise for the next defence.
"Twenty-five years on we are still the exclusive supplier. This 36th America's Cup is a bit special though, because we are supplying the hose and fittings for each challenger's foil cant system."
Hydraulink is the engineering services provider selected for the event which will be seen around the world, in the biggest audience ever expected in America's Cup history. Preliminary races, including the Prada Christmas Cup, commence in December, with more than 120 broadcasters already signed up in the first wave of support announced in October. Digital platforms are expected to help make this the most widely accessible America's Cup ever.
Hydraulink is widely known in industrial markets as a leading supplier to major construction, civil engineering, infrastructure, manufacturing, resources, mining and energy, forestry, primary industry, transport and marine companies in Australia, New Zealand, SE Asia and the Western USA.
The company provides quality hydraulic hoses and fitting and operates to world-class standards of safety and standards compliance, providing maintenance, and service life optimisation for often huge and complex machinery working 24/7 that depends extensively on hydraulics for safe and efficient operation.