Published 05-12-2019
| Article appears in February 2020 Issue
HYDRAULICS SPECIALIST KEEPS FIRIES ON THE JOB WITH FREE HOSE FIXES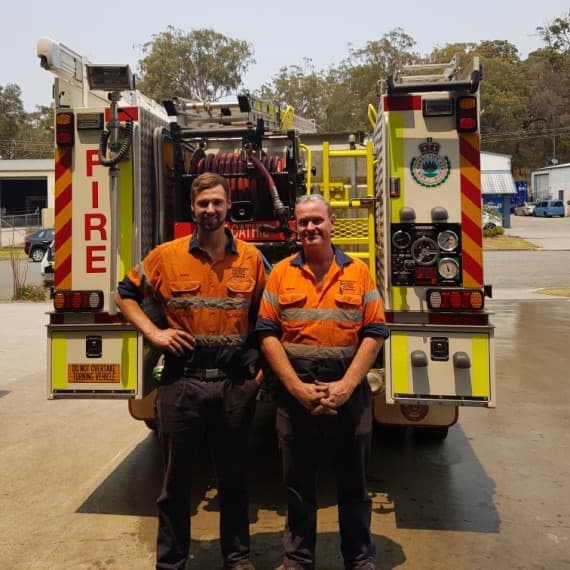 Hydraulink Port Macquarie Director Simon Bell, right, and Hydraulink technician Andre Bouwer, left, with one of Lake Cathie Rural Fire Brigade's trucks after they had repaired the rear water pressure hose
As NSW battles one of the worst bushfire seasons on record, the community-minded Hydraulink Port Macquarie branch has come to the aid of local firefighters to repair their broken hoses, so they can continue to protect the community.
Blackbutt Engineering, which operates as an authorised Hydraulink dealer in Port Macquarie, has been repairing hoses completely free of charge for the Lake Cathie Rural Fire Brigade and Lake Innes Rural Fire Brigade.
"These firefighters are going above and beyond the call of duty to protect families and their homes in a time of crisis. Being able to provide them with any amount of assistance was highly rewarding," says Simon Bell, Director, Blackbutt Engineering.
For the Lake Cathie brigade, Bell and tradesman Andre Bouwer determined that the fire engine's pumper live reel (the hose at the rear of the truck) had a leak on the reel end of the water pressure hose.
The two trained hydraulic technicians got to work promptly and repaired the leak, to get the fire truck back on road as quickly as possible, so that it could keep helping in the efforts to contain and manage the bushfires in local areas.
Lake Cathie Rural Fire Brigade was highly appreciative of the service and posted to its social media pages, "Huge credit to Simon and the Boys at Blackbutt Engineering & Hydraulink Port Macquarie enthusiastically repairing our pumper live reel free of charge this morning. Absolute legends! Thank you."
For the Lake Innes brigade, Hydraulink efficiently fixed five hoses with holes in them, to get the firefighters ready for one of the worst predicted fire days the very next day.
The Lake Innes Rural Fire Brigade also greatly appreciated the assistance, posting on social media, "A big thanks to Simon and the awesome team at Blackbutt Engineering & Hydraulink Port Macquarie. The guys have donated their time to make some emergency repairs on our firefighting hoses."
Hydraulink
1300 36 37 34
www.hydraulink.com.au