HYDRAULICS SPECIALIST GOES WEST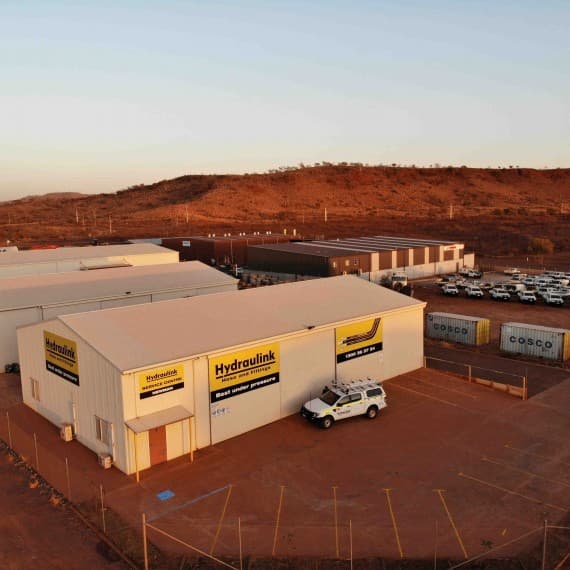 Hydraulink has opened a new facility in Newman, Western Australia, to service strong and ongoing mining, oil and gas, construction and commercial and industrial infrastructure development in the Pilbara.
The new franchise – the latest of more than 240 hydraulic hose service points throughout Australia – is led by Kevin Ormond, an award-winning family businessman who has forged strong engineering and service links with leading companies throughout Western Australia over more than a decade, including some of the state's largest miners.
"We saw a strong place in the market for a service-oriented hydraulic solutions provider with the local facilities to ensure customer equipment uptime is optimised and costly equipment is back in service rapidly," says Ormond, whose experience includes on-site and FIFO engineering and technical work on WA mine sites, before also developing a strong and ongoing manufacturing and export business to Pilbara companies from his family's engineering company in New Zealand.
Hydraulink has awarded Ormond Engineering multiple achievement awards over successive years and is delighted to have to have the highly motivated new team join its expanding network, says Hydraulink WA State Manager, Andrew Lever.
"It is outstanding to have Kevin as a team leader who knows thoroughly the needs of WA industry – including prompt and thorough service to optimise reliability and expedite maintenance and repairs, with all work performed to the same uniformly high standards over multiple sites. As someone with long experience in the unique conditions of WA industry, he is strongly aware of the mandatory safety, compliance and traceability performance required in world-class businesses," he adds.
The new branch, some 1250km north of Perth, will focus on the needs of the world-class businesses in the region, including iron ore, oil and gas, infrastructure development and civil, pastoral, industrial and materials handling machinery to which hydraulics are integral.
"Hydraulink is a brand and organisation I am proud to be part of," says Ormond. "With the sustained surge in construction development in the Pilbara – involving multiple resources, such as iron ore, lithium, potash and oil and gas, among others – we are well positioned to ensure our customers get the products and services they need, when and where they need them.
"We have built strong relationships here over the years and have a reputation for getting things done, with excellent parts and service backup."
Kevin Ormond and his family's Australian and NZ interests have long been part of the Hydraulink success story as it has unfolded throughout Australasia, the Pacific and Western USA, attracting customers through its can-do ethos and investment in people, technology and training.
"The association with Hydraulink has flourished over time to become integral to how we do business. We value the strong team culture, which puts its people first. This personal commitment and the Hydraulink business model also work well for us," said Ormond, whose father, Vic, has assisted with the Newman setup even though he is retired.
Hydraulink
1300 36 37 34
www.hydraulink.com.au