HYDRAULICS SERVICE SPREADS THROUGH SYDNEY'S WEST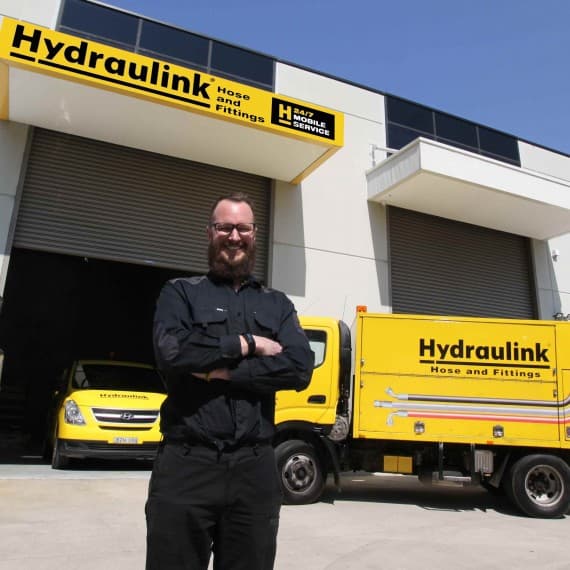 The dedicated local manager who has been instrumental in building the successful Granville Hydraulink operation now plans to apply the same success formula to the franchise in the burgeoning region of Blacktown, NSW.
Ben Walker has built up a loyal following across a wide range of industries in Granville's solid industrial market in less than five years. His satisfied customers include those in road, infrastructure, light rail, demolition, mining suppliers, ground testing, warehousing, materials handling, waste management and other specialised industries.
Now he plans to apply the same winning formula to Blacktown, built around hard-working, professional staff and a commitment to train the team to succeed with the proactive, service-oriented position that has made the Hydraulink brand a winner throughout a rapidly growing network of more than 110 service centres across Australia.
Assistant Manager, Lawrence McIlvride, will take the reins at Granville and expand on the ongoing success with customers from businesses in geo-probing, large-scale demolitions and waste management, while Ben Walker takes ownership of the Blacktown operation, including its fully equipped hydraulic mobile service vehicles.
"Blacktown has huge potential for a business with our market advantages," says Walker. "There are a lot of crane, hire and rental, forklift, waste management and recycling companies in the area that stand to benefit from our 24/7 service availability and can-do attitude."
Walker is further enhancing efficiency and availability at the Blacktown branch by revitalising the workshop and increasing stock levels to ensure customers are served as quickly as possible.
"I'm looking to increase our over-the-counter business as well," he adds. "I want anyone to be able to drop by with a hydraulic problem and for one of our team to fix it promptly, because we have necessary parts and expertise right here in Blacktown."
"In my experience with the Granville branch, Hydraulink's problem-solving approach won us a lot of loyal customers and repeat business, and I'm looking to bring that ethos to Blacktown too."
"We had a customer come in the other day with a truck that wasn't working properly, but he didn't know the problem. Our experienced team disassembled the truck, found the problem, put it all back together and tested it to make sure the problem was completely fixed. It's these sorts of jobs that set us apart from any other hydraulic service company in Australia."
"I also plan to make optimum use of Hydraulink's resources between the Granville and Blacktown branches. If we need to move staff or stock between branches to get jobs done faster, I can arrange that seamlessly," he adds.
"My plan is to provide the greater Blacktown area, which includes several surrounding suburbs, with a level of service previously unseen in the area. In addition to 24/7 availability, we have more than just hoses and fittings. We have a full range of industrial and hydraulic components, and the in-house expertise to solve complex problems with quick turnaround times."
Hydraulink
1300 36 37 34
www.hydraulink.com.au