HYDRAULICS PARTNERSHIP POWERS HEAVY MACHINERY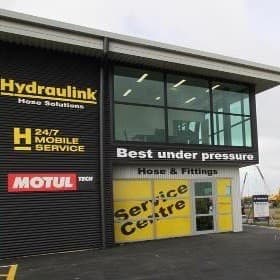 Leading heavy machinery sales and rental specialists Porter Group is powered by its partnership with hydraulic services professionals Hydraulink.
Porter Group, a fast-growing supplier of new and used heavy equipment in Australia and New Zealand, supplies world-leading brands of machinery nationally to industries where time is money and the benefits of uninterrupted production can be measured in thousands and even millions of dollars.
The group's customers include forestry and primary production, mining and energy, civil engineering and infrastructure, heavy industry and construction, and waste recycling and landfill, whose operations include some of the most remote and challenging terrain in Australasia.
Porter Group has grown from being a successful New Zealand company representing international brands to becoming an international concern itself, with expanding operations throughout Australia, Papua New Guinea and Southern California.
"Integral to our success formula is providing a seamless, stress-free relationship for our customers, who know they can depend on us to deliver what they want, where they want it, 24/7," says Porter Group Manager Simon Porter.
"We have built up customer-responsive networks throughout Australasia, so we can deliver exactly what's needed in terms of new equipment customised to industry needs, or rental equipment delivered fast and backed with outstanding service. With heavy machinery, it is a big investment and reliability and safety is prized."
The group's sales and rental divisions provide thousands of pieces of heavy machinery a year. Central to the reliability and operation of all this equipment is proper fitting and service of the hydraulic equipment without which machinery cannot do its job. For nearly 20 years, Porter Group has depended on Hydraulink for this role, expanding its relationship as Hydraulink has grown to more than 400 service points throughout Australia and New Zealand, supported by mobile units, providing hoses, fittings, adaptors, accessories and custom fitting and service.
"Hydraulink has the scale of network and depth of expertise we need to provide uniformly high standards of engineering and safety across diverse markets, all under the one brand," says Porter. "They are quick off the mark – well organised and self-motivated.
"They have got a lot of smart people across their network, with good industry knowledge. This means they are quick starters and they don't have to relearn the same lesson every time.
"We can confidently depend on them to send experienced service technicians out to our customers, some of whom operate in rugged and remote spots where we have to deal quickly with service situations that could otherwise be very costly."
Porter Group depends on Hydraulink's skills to keep its rental fleet in efficient shape, with high standards of utilisation, reliability and ultimately profitability. The group has, for example, more than 2500 items of heavy rental equipment throughout NZ, with much of it based at its national headquarters in Hamilton, North Island. Porter says with a fleet this size there are always a number undergoing maintenance at any one time, so the service provided by Hydraulink's new Hamilton branch, which is located on a neighbouring property, is critical to maintaining commitments to customers and profitability.
"In addition to servicing the rental fleet, we also depend on Hydraulink engineering staff to fit out new machinery to customer specs," he says. "Different customers from different industries have hugely different needs, because they have very different jobs they want their new machines to do."
Hydraulink CEO Robin Simpson says that not only does Hydraulink share Porter Group's safety ethos, but it can also deliver the same strong, uniform standards of safety, engineering and traceability across multiple sites and entire operations.
"We appreciate having a partner who entrusts us with this philosophy and who deals in quality product and engineering," he says. "They appreciate the fact that we can deliver a strong product and strong safety ethos under the one brand nationally."
Hydraulink
1300 36 37 34
www.hydraulink.com.au