HYDRAULICS ENGINEERS ALL ABOARD ON SUPER YACHT UPGRADE PROJECT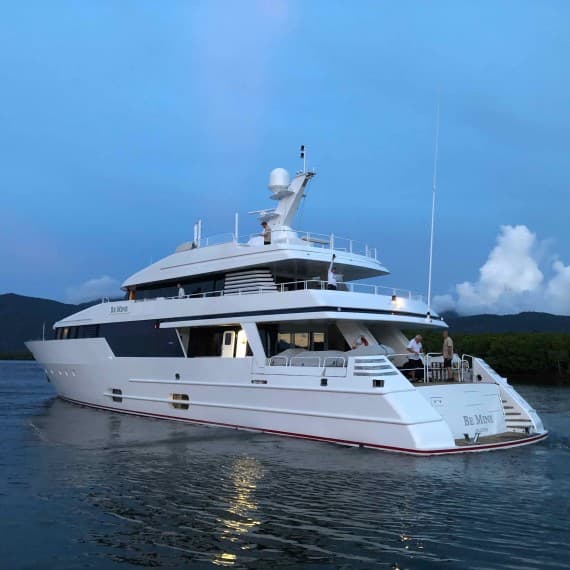 The 40m, 310t super yacht Be Mine has a new passerelle (gangway) after a collaboration between BSE Cairns Slipway and local Hydraulink engineers.
BSE, which is part of the BSE Maritime Solutions Group, collaborated with Hydraulink Cairns to completely remove, strip back and rebuild the ship's passerelle, where hydraulics are essential to its smooth and reliable functioning.
Hydraulink, which operates through more than 400 service points in Australia, New Zealand and the Pacific Islands, has extensive experience in yachting and maritime applications, and is the official partner of Emirates Team NZ as it challenges for the America's Cup.
"When working on vessels as valuable as a super yacht, quality is of the utmost importance," says Brian Keller, Customer Service Manager of BSE Cairns Slipway. "I know we can rely on Hydraulink to always provide top quality hydraulic products that are comprehensively backed by service and support.
"The customer was really happy with the final product. After the boat left Cairns, it next docked in Singapore, where several engineers and shipping experts commented on the quality of the upgrade. To get this sort of positive feedback from industrial experts is a huge compliment, and we're proud of the job we did for Be Mine."
Hydraulink is known for its compliance, product durability and service qualities among a huge range of clients in industries such as earthmoving, mining, forestry, agriculture, manufacturing, machine builder, materials handling and public utilities, where uptime and safety are critical.
"Hydraulink's ingenuity, can-do attitude and 24/7 service availability were major assets in completing this project efficiently and to the highest level of quality," Keller says. "The customer came to us without a specific solution in mind, but a definite need, and was impressed with the ideas we came up with. Hydraulink's hydraulic expertise was a pivotal element in this process."
Hydraulink specified its H16-04ST 1/4" 2 wire slimline hose with 3/16" 100R7 transfer oil hose to achieve outstanding quality and durability in a hose size typically 30 per cent smaller than alternatives.
BSE has been steadily expanding its Cairns slipway and has invested in new technologies to further enhance its maintenance capabilities and allow the company to handle more complex projects and additional vessel types.
"We've got a new 1120t travel lift – or mobile belt hoist – coming this year, to enhance our yard's capabilities," Keller says. "We see Hydraulink as a long-term partner for all hydraulic service needs, because they always provide outstanding service and are highly responsive when we call.
"Hydraulink Cairns is currently working on attaining DNV certification, so that they can extend their hydraulic technologies and service to navy, customs and patrol vessels. This will be a great asset to BSE as we expand to cover all vehicles from small tugs through to navy ships and large vessels."
Hydraulink's H-16 two-wire hose easily handles the pressures of up to 466bar required for a broad range of hydraulic applications, including maritime applications like the Be Mine super yacht.
Hydraulink Cairns co-owner Brett O'Hara says the compact construction and outstanding flexibility of the H-16 hose made it an ideal choice for the super yacht application.
"All maritime applications need highly durable hoses, because of the tough, saline conditions they work with, but to have that same durability in a slim and effective sizing is a major advantage," he says.
"The hydraulics work smoothly and efficiently in Be Mine's passerelle, which is a credit to Brian and the team at BSE Cairns Slipway. They are highly experienced and share Hydraulink's solutions-focused approach, which makes them a fantastic company to work with on projects of all sizes and complexities."
Hydraulink
1300 36 37 34
www.hydraulink.com.au