HYDRAULIC LIFTER FLOATS CUSTOMER'S BOAT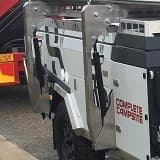 A Hydraulink hydraulic engineering and service specialist in Port Macquarie has created an innovative and unique solution for a customer. Simon Bell of Blackbutt Engineering turned his talents for solving industrial and contractor challenges to help a recreational customer who wanted a solution that would help him easily load his boat high on top of a camper trailer.
Bell is part of Hydraulink's nationwide team of over 400 service points throughout Australia and New Zealand who typically focus on providing 24/7 support to industrial customers. Hydraulink customers are usually seeking to optimise the performance, reliability and safety of their fixed and mobile machinery, characteristics Hydraulink's staff are experts at across a diverse range of industries.
On this occasion, however, he was asked to undertake an unusual job on a recreational camper trailer. This is a type of trailer that has become increasingly popular among the tradesman, contractor and retiree markets that are strong in his area and who frequently tow campers with boats loaded on top.
His solution to this customer's needs was to engineer a rugged side-mounted lifting frame that uses 3t double-acting cylinders connected with Hydraulink H16-04ST industrial-grade hoses. This combination effortlessly flips the attached tinny from its position on the ground, up onto the top of the camper at about head height. The hand pump, mounted behind the trailer's drawbar, turns the loading and unloading procedure, which might otherwise involve multiple people, into a one-person task.
"The lifter is deliberately over-engineered for effortless use and outstanding reliability," says Bell. "The tinny it is loading and unloading weighs only a couple of hundred kilograms, but it is an awkward shape, going into an awkward elevated position, so there can be slip and strain risks with other methods of loading and placing the boat.
"This lifter is great for all customers, but especially those who may have back issues or lifting issues, and it is good too for the tradesmen and contractors who use their utes to tow camper trailers to fishing and camping in remote spots."
Bell's customers in the Port Macquarie district range from individual contractors involved in the agriculture, timber, housing and retirement industries, through to national organisations such as electricity distribution authorities, infrastructure groups and hire organisations with an absolute focus on safety.
"Lifting and actuation applications depend absolutely on reliable hydraulics – as does all machinery," he says. "If there is anything wrong with the hydraulics in a vehicle or in machinery, it is a safety risk and customers will send it to us to get it right. They like the fact that Hydraulink is on-call 24/7 and understands how important properly serviced hydraulics are to avoiding downtime."
Hydraulink
1300 36 37 34
www.hydraulink.com.au