HYDRAULIC CYLINDERS: BEWARE OF INFERIOR QUALITY LOOKALIKES
07-03-2018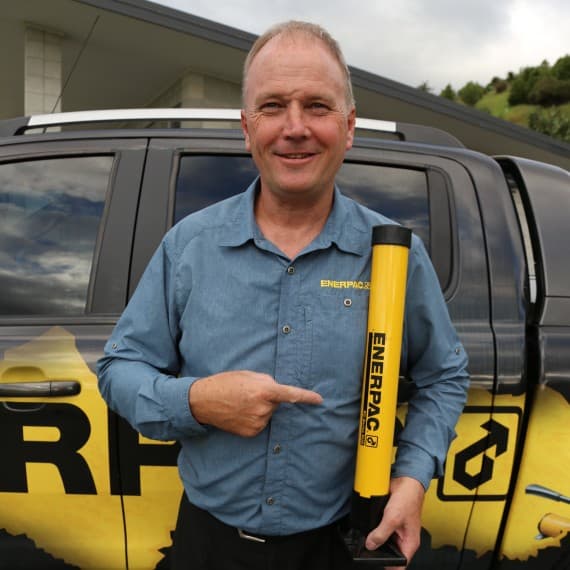 Neville Stuart shows off a real Enerpac cylinder
Enerpac reports that its Australasian service centres are receiving increasing numbers of maintenance and replacement claims for non-genuine lookalike cylinders that have broken down or worn out.
The problem – which is particularly acute in New Zealand, but also encountered in Australia – often costs the cylinders' owners double when they lose production time with the defective item, then can't get it fixed under Enerpac warranty, says Enerpac New Zealand Hydraulic Specialist Neville Stuart.
"We were surprised when the claims started happening because Enerpac cylinders are designed for lowest total cost of ownership, with quality and value built into their engineering. They are engineered not to fail.
"But then we looked closer and realised they weren't our tools, but lookalike cylinders painted nearly identically to our cylinders. All that was different on some was the absence of the Enerpac brand.
"Given that bright yellow Enerpac cylinders have been known and trusted throughout Australasia for more than 50 years, it wasn't surprising that some people thought they had genuine Enerpac gear.
"Also, one lookalike range catalogue is nearly a mirror image of ours. It uses the same layout and almost indistinguishable product coding from the style used by us, the trusted market leader."
The lookalike situation has been developing insidiously over the past several years and is now coming to the point of legal action, which Enerpac has commenced, says Stuart.
"People who buy our genuine cylinders trust us because we provide a quality product and back it comprehensively and in the field through a long-established national sales and technical service network.
"There are no short cuts with us – our tools are subject to world-class manufacturing and traceability standards. And we back them up with full warranty, plus training as required, because we are so confident in their quality, performance and reliability."
Stuart says many lookalikes have problems "under the skin" associated with poorer quality design, engineering and construction.
"They are aimed at the lower end of the market, where we believe operators and businesses dependent on hydraulic tools are inviting safety and downtime risks by using products that don't offer the same quality, traceability, performance and reliability as the branded alternative.
"Companies buying in this lookalike market – sometimes unwittingly – are opening the door to costly risks when they are short-changed on quality and backup.
"It's possible that not only entire tools, but even component parts such as valves, seals, hoses and oils can be superficially replicated, and buyers can unknowingly accept these as genuine.
"These anonymous components are less obviously not genuine Enerpac because you can't see them, but they can come under great stress in hydraulic circuits and pose hidden risks to the safety of operators.
"Our own Enerpac organisation – which is Australasia's largest supplier of high-pressure tools – has encountered warranty claims on components recently from people who believed it was our product which had let them down – only to discover it was non-genuine material which had failed."
According to Neville Stuart, the costs of failure of tools can be severe: "If something goes wrong during a 100-tonne lift or pressing operation, for example, the consequences can be immediate and devastating for industries such as building, construction, civil and mechanical engineering, electrical utilities, manufacturing, mining and exploration, metal processing, oil and gas and transport maintenance."
Enerpac Australia
02 8717 7200
www.enerpac.com.au