Published 02-07-2019
| Article appears in August 2019 Issue
HYDRAULIC BOLT TENSIONERS FIT COMPACT FLANGES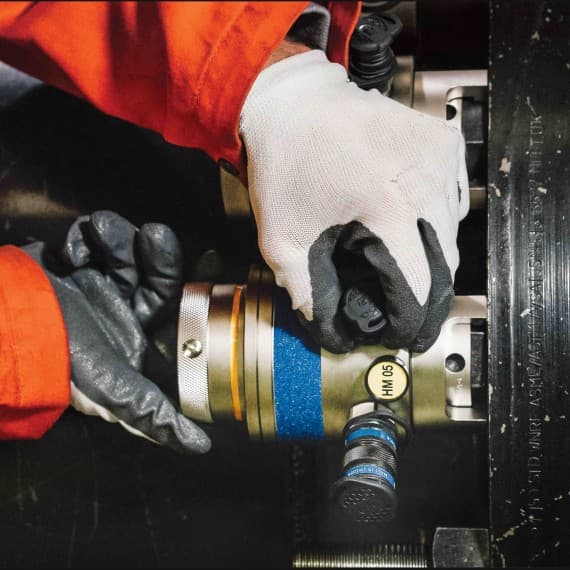 Enerpac's compact HM-Series HydraMax topside bolt tensioners promise powerful, swift and even performance over multiple-bolt joints in assembly and maintenance operations. The HM hydraulic tensioners are designed to overcome the dimensional constraints and bolt load requirements of compact flanges found in industries such as oil and gas, mining and energy, manufacturing and process engineering, liquids reticulation and bulk materials handling.
Generating 30 per cent more load capacity than traditional tensioners and available in maximum capacities from 134 to 4650kN, HM-Series tensioners fit all standard flanges, including ANSI, API and Norsok L005 compact flanges.
According to Enerpac Regional Bolting Leader, Andrew Marsh: "HydraMax bolt tensioners are field-proven tools. HydraMax tensioners have been the most recognisable tensioner in Hydratight's bolting portfolio for more than a decade and are now becoming an important element of the Enerpac range of controlled bolting solutions as Hydratight and Enerpac are merged to become a single company.
"This integrated range expansion will have major benefits for bolting customers, including the comprehensive national sales and service backup for which Enerpac is widely respected – as well as access from the one convenient source, to the extensive Enerpac range of professional bolting technology, all with global standards of reliability, safety compliance and traceability," says Marsh.
Enerpac is also updating its GT-Series topside bolt tensioner range with a new GT7 tensioner will be added. The seven GT load cells and bridges will cover bolts from 5/8 to 4in and M16 to M105. The GT range will also benefit from a captive socket system that will prevent the socket falling or being lost from the tool.
GT-Series universal bolt tensioners (in capacities up to 3958.4kN at 1500bar) and HM HydraMax topside tensioners are particularly suitable where operators want to achieve known and accurate bolt loads across multiple applications, such as pipelines, flanges, base bolts and turbines.
Enerpac
02 8717 7200
www.enerpac.com