Materials Handling & Equipment
Published 08-08-2019
| Article appears in August 2019 Issue
HYDRAULIC ASSISTANCE POWERS UP TYRE-HANDLING FORKLIFTS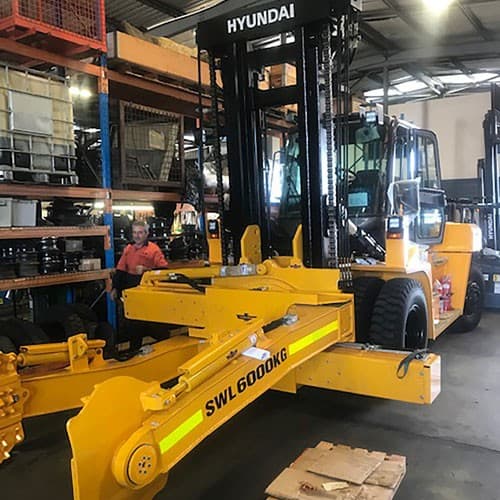 Leading Queensland forklift company, Norlift, has received expert hydraulic engineering assistance from Hydraulink to actuate a new Rexroth joystick control for enhanced safety and efficiency of its Hyundai tyre-handling forklifts for Rio Tinto.
Norlift supplied Hyundai 160D-7 forklifts, fitted with cascade tyre handlers, to Rio's Weipa and Gove operations, which contribute the majority of the company's 50 million tonnes of bauxite exported annually. Rio invested $2.6 billion in expanding its Weipa operations in 2015 – the single biggest investment in Far North Queensland at the time.
"Rio wanted a tyre-handler with better ease-of-use and safer operation, so we worked with Rexroth and came up with a joystick solution, where the operator only has to move one joystick instead of the typical eight levers. Hydraulink installed all the hydraulics neatly and efficiently," said Norlift Owner Greg Rynne.
The tyre handler is used for tyre changing and maintenance on a huge range of mining, earthmoving, bulk handling and resources machinery, including haul trucks and belly dumper trucks.
"It's a great system. If you push left on the joystick, it responds left. It's essentially like a robotic arm. It can pick up a wheel flat on the ground and raise it vertically, then tilt it left, right, forwards or backwards," explains Rynne.
"Hydraulink shares the same philosophy as us, whereby we are always attentive to detail, take pride in our work and strive for engineering excellence. It makes them a pleasure to work with," he said.
Hydraulink Cairns – the branch responsible for this project – is one of the extensive Australasian Hydraulink network, which has more than 400 service points across the region, where it also provides service and back-up 24/7 to customers in industries where safety and uptime are vital.
"Not only is their quality second-to-none, but they're highly responsive. If we need something – they'll be there. They've never let us down," said Rynne.
Neat engineering
According to Hydraulink Cairns Co-owner, Brett O'Hara, Hydraulink prides itself on having a solutions-focused approach and working to customer's needs, rather than providing a one-size-fits all approach.
"For this custom design, the pilot system was removed from the forklift and a full electronic control valve was fitted. It's proportional, and allows infinite control," he said.
Greg Rynne was impressed with the result, and the engineering involved throughout the process. "What I really like about Hydraulink is that they take pride in all the bits. Most of the hoses, connectors and fittings are hidden away in this application, but Hydraulink still set it up with incredibly 'neat' engineering. Everything fits well and is easy to find and maintain," he said.
"Rio is very happy with the tyre-handling forklifts. The enhanced ease-of-use was very well received by their operators, and the fact that it also enhanced safety – one of their top priorities – was a major asset."
Hydraulink
1300 36 37 34
www.hydraulink.com.au