HYBRID NANOGLASS REFLECTS A SMART FUTURE
08-06-2016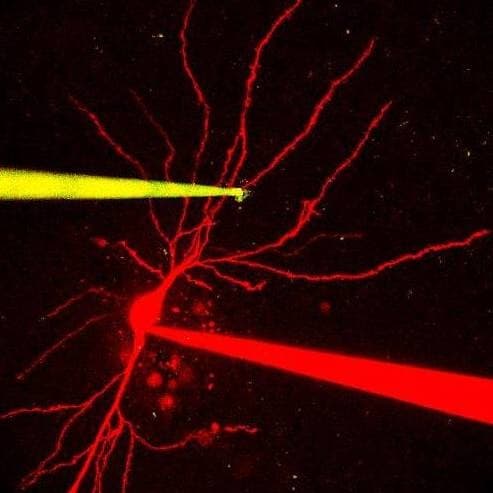 A fluorescent pipette directed towards a neuron.
A new use of photon conversion in glass manufacturing promises to boost everything from 3D displays to brain surgery, using upconverting nanoparticles embedded in glass. 
Photon upconversion is a property of some specialized materials: they absorb light, and emit it at a shorter (or stronger) wavelength. Infrared input can be turned into visible light, or visible to ultraviolet. In other words, they fluoresce.
What use does that have? Principal researcher Tim Zhao of the University of Adelaide says that the unique fluorescence has applications that range from monitoring radiation, to producing interactive 3D display screens, to making biomedical operations equipment.
"For example, neuroscientists currently use dye injected into the brain and lasers to be able to guide a glass pipette to the site they are interested in," he said.
"If fluorescent nanoparticles were embedded into the glass pipettes, the unique luminescence of the hybrid glass could act like a torch to guide the pipette directly to the individual neurons of interest."
Researchers have been able to make nanoparticles that upconvert for some time, but integrating them into glass has been a challenge.
Previous methods didn't keep all of the nanoparticles intact, nor allow researchers the control they needed to evenly distribute the particles, making them difficult to disperse.
"We heated the glass at a really high temperature, making it really homogenous," continued Zhao. "After it was melted we lowered the temperature down as low as possible. Lowering the temperature makes it foam like water, and then like honey at room temperature. At that point we enter our nanoparticles and the glass helps it all disperse in time."
This new development bodes well for the future of hybrid glass, and the new direct injection method could be repurposed to work with other nanoparticles with photonic, electronic, or magnetic properties.