HYBRID INDUSTRIAL SWEEPER CUTS CLEANING TIME INSIDE AND OUT
05-07-2017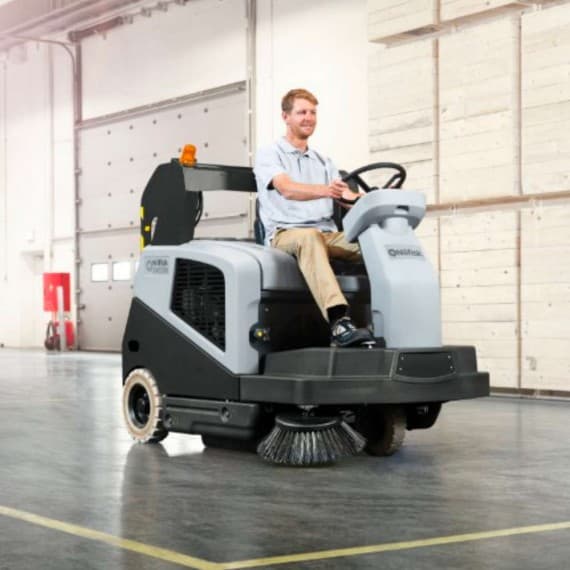 Nilfisk has come up with a hybrid industrial sweeper that it reckons provides a highly productive, comfortable and cost-effective way to sweep large floors and outdoor areas free of dust and debris. With its generous 150-litre hopper, the SW5500 ride-on sweeper has the size and capacity required to significantly reduce cleaning time.
At the same time, the SW5500 provides sustainability with its optional hybrid drive technology reducing emissions and noise. A single unit can sweep indoors and outdoors simply by switching between the engine and the electric motor.
The machine features a novel system that increases sweeping performance even when the main broom is worn – effectively extending the working life of the main broom. And it is easy to check if the main broom is correctly positioned simply by touching a button.
All sweeping functions are activated simultaneously by pushing a button and activating the drive pedal. And all functions stop when the drive pedal is released, saving energy, reducing broom wear and preventing marks on the floor.
Capable of working on 20% inclines, the SW5500 puts operator safety first by automatically reducing speed on slopes and in tight turns to minimise the risk of tilting the machine. It can also be specified with the optional Nilfisk DustGuard/misting system to keep the air cleaner and clearer for the operator by reducing dust emissions from the side brooms.
Nilfisk
1300 556 710
www.nilfisk.com.au