HYBRID COMPONENTS FOR OVERVOLTAGE SURGE PROTECTION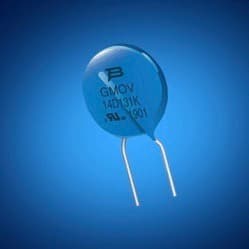 Mouser Electronics stocks GMOV hybrid overvoltage surge protection components from US electronics company Bourns, which present a long-life, reliable protection solution providing a higher level of performance and safety compared with standard metal oxide varistors (MOVs). These components are ideal in AC applications where conditions are uncontrolled or less than predictable, in markets such as industrial, consumer, non-critical medical and communications.
They combine Bourns' innovative and space-saving gas discharge tube with an MOV to create a compact, robust hybrid component. By combining two technologies, they effectively eliminate leakage and most damage due to watt loss heating, resulting in a protection solution with zero standby energy consumption and increased mean time between failures.
The components offer an easy drop-in replacement for existing MOVs and are available in standard 14 and 20mm MOV packages. They have been tested, evaluated and shown to be effective against many of the threats experienced in applications such as surge protective devices, white goods, chargers, solar power, medical electronics and power line communications.
Mouser Electronics
+852 3756 4700
au.mouser.com