Husic tells Institute that policy must also enshrine safety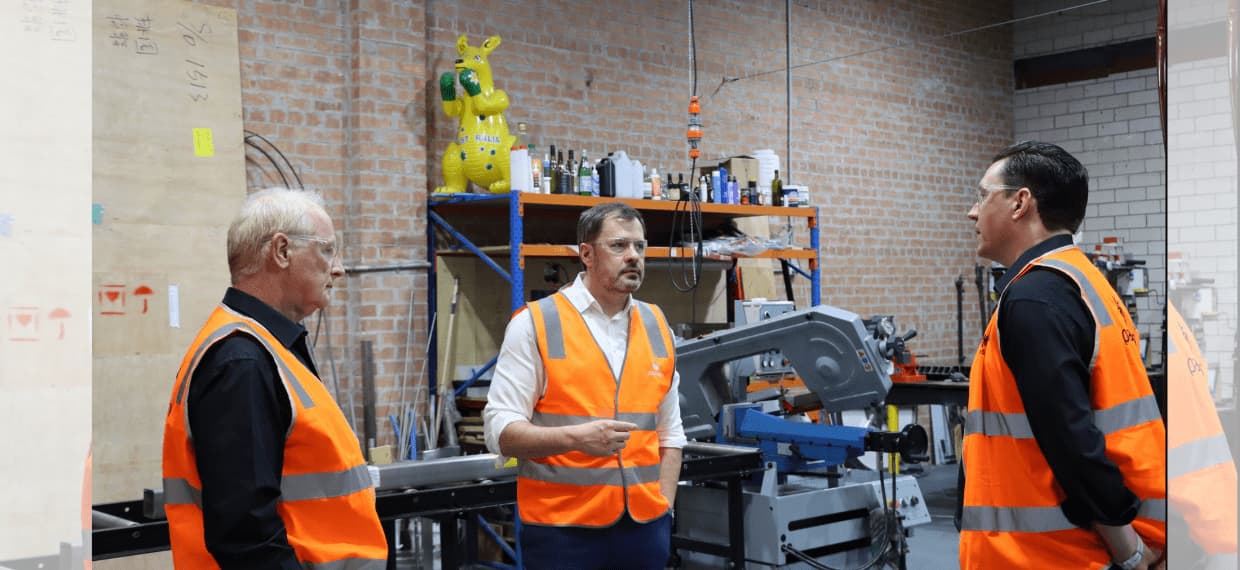 In a speech to The Australian Institute earlier this week, Shadow Minister for Industry and Innovation, Ed Husic (pictured in centre of image) stressed that good industry policy isn't just about economics - it helps build a sense of security as well. 
"In tough, challenging times it's as much about national security as it is economic security. As a nation we've always had to contend with continental isolation and physical global disconnectedness. We've always been conscious of the potential for disrupted supply lines and shortages. 
Underling this, he added that "Australia ranks dead last on manufacturing self-sufficiency compared to other OECD countries. We can and should be better than that."
Attitudes evolve
Husic added that his statement wasn't about the notion of governments swinging open the doors of the Treasury to back all industry comers, one and all. 
"But it is a call to think, to shape policy for the times. When we hail the growth of industries in other parts of the world as an example of what can be done here, just know that governments do act strategically, methodically to nurture and grow those industries.
"Australia can be a place that makes things. But it won't just happen because we declare it so. It takes hard work, an understanding of the moving parts that need to work together, backed by a preparedness to invest and cooperate. Crucially threaded together by an iron-strong belief in the capability of Australian know-how and smarts, which I have seen first-hand over many years.
What's changed
So before our eyes, what was passé is now freshened up. Industry policy is getting a makeover. Not just here. Governments in other nations recognise the need for it.Late last year, Boris Johnson's government swung taxpayer funds behind the bailout of Britain's seventh-biggest energy company.US President Joe Biden has invested heavily in his Buy American program. 
French President Emmanuel Macron declared the need for an "independence of France" in technology and industry. 
Why?
Nations have been jolted into it, by a pandemic that highlighted the scarcity of the items it was believed would be readily available, delivered by efficient global supply chains.
And by a recognition that we've become chronically dependent on the concentration of supply of our products, where it's estimated up to 80 percent of the global production for some consumer products comes from one nation: China.
 How easy will it be for Australia to replicate this? In our own vernacular, "bloody hard". Look where we're starting from. As a nation we're ranked last for manufacturing self-sufficiency in the OECD.
Not only are we so reliant on non-value-added raw material and food exports, but to add insult to injury, we're the lowest producer of manufactured goods we consume within the OECD.
Capabilities run down
We import the bulk of what we need across key sectors - health, energy and infrastructure, defence and space, science, communications and technology, and advanced manufacturing.Our capabilities have been run down. It's not like we weren't aware of this threat.
Husic claims that previous governments have known for years that the country needed to invest in capability, build human capital, and reduce dependency on someone else's technology. It was Prime Minister Bob Hawke who declared:
"In this national task of mobilising our human resources, our scientists and researchers stand at the forefront. Australia must reduce its reliance on imported technology and borrowed research.  We must become a leader in the production and export of ideas."
He added that where once Bob Hawke pushed the nation to come up with its own ideas and pursue them, we now have Scott Morrison urging us to hurry up and embrace overseas developed technology.
Need to be smarter
You can't be a nation that makes things into the future, if you're not thinking about how to make them smarter, more efficiently, in different ways to your competition.  That's why research matters, especially basic research performed in our universities.
An initiative that pretty much resuscitated - with its six key focus areas - what the previous Labor Government had focussed on and supported within its own 2012 manufacturing plans. 
Future capability
Husic stated that Australia isn't just in a race with other nation's to rebuild possessed capability. "We are also rushing to concentrate on developing and harnessing emerging critical technologies, in quantum computing, artificial intelligence and robotics.
"Recently, I visited Sydney University to see first-hand the sharp minds being applied to the race to build quantum computers, which will fundamentally transform computing across the globe. And witness developments in additive manufacture through to potential breakthroughs in hydrogen energy generation.
They are Australians determined to see that our country leads the way - if they have a government that genuinely believes and cares in their work.Artificial Intelligence is not only critical to future economies, it's a vital springboard for the jobs of tomorrow.The World Economic Forum's Future of Jobs report ranked artificial intelligence specialists as the top role in the sector. 
We need 161,000 specialists
CSIRO's Data61 estimated Australian industry will need up to 161,000 new specialist AI workers by 2030, with 20,000 additional workers per year.
It's not just a technology for big business. I have also visited a smaller manufacturer based in Marrickville, Packserv who've teamed up with UTS to use AI to reimagine the way they scale up their production lines, crucial to their longer term viability, staving off competition. Many other nations understand the importance of having a coherent, national approach to the application of AI to benefit their economies and societies.
As Kai-Fu Le points out in his book AI Super-Powers, PwC has already calculated that AI will add close to $16 trillion to the global economy by 2030.
  As the Australian Information Industry Association has warned, the pace and design of the plan is accelerating an AI talent exodus.
 "Talent is scarce on the ground. We do have niche capability around AI and quantum talent and they are getting poached. They are going overseas…So there's a real speed and agility required to execute."
 Thinking about the development of critical technologies does not mean we give up on existing industry capabilities or sectoral strengths. We should look to pair this activity to strengthen the performance and growth of both. And we should celebrate our local tech sector much more because despite conventional thinking, tech is the creator of jobs for many fellow Australians living in the outer suburbs of our major cities. 
"That's why having a clear plan on how to strengthen our tech sector will be important for jobs, the performance of our economy and the quality of life in our communities. But the jobs that the tech industry delivers largely go under the radar in our national conversation. What's become clear in the aftermath of the pandemic is the renewed focus on the need for quality jobs that can withstand economic shocks, particularly in the tech sector, "he said.
To be continued in the April/May edition of Industry Update.