How sweet it is for the Sippel airskate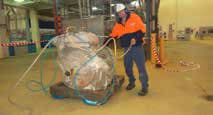 Earlier this year the Sippel Group was faced with a "sticky" challenge when a leading confectionery manufacturer in Victoria required equipment for the major relocation of heavy machinery.
To achieve maximum results, Sippel supplied its famous AIRSKATE Hovair Air Flotation Load Movement Equipment.
The latest equipment now features a special compact lightweight aluminium manifold for air distribution to each of the AIRSKATE Modules.
These are the low profile blue discs under each corner of load (as pictured).
The aluminium six-outlet manifold (with two outlets blocked off) is shown positioned on top of the load.
An operator is able to manage the process with an umbilical Hand Held Deadman Control.
To demonstrate the ease of lifting with the AIRSKATE Hovair, the Sippel Group organised a special training visit.
With four Modules – one under each corner of the pallet – the AIRSKATE was used to comfortably "guide" several concrete pillars, weighing 2-3 tonnes.
The modules were part of a six-set. Each module has a capacity up to 4 tonnes.
Each module is fabricated to be capable of supporting the load and can be positively located as required.
Subject to vision clearance and floor surface flatness, one person can control up to 10 tonnes.
Sippel Group
Ph: 0411 136 484