How to streamline your supply chain
26-02-2014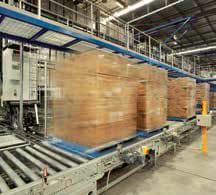 Fast Moving Consumer Goods (FMCG) distribution centres face many difficult challenges when it comes to completing orders on time.
This includes high volume, fluctuating quantities of goods, many of which are subject to regular promotion and strict use-by-dates.
And with an economic climate that demands greater efficiencies at lower cost, the need for sophisticated storage and retrieval systems has never been greater.
Many Australian FMCG brands are increasingly turning to automated storage and retrieval systems (ASRSs) to grapple with the complex requirements of their distribution centres. Storage and materials handling specialist, Dexion has worked with some of Australia's biggest names, including Arnott's and Kimberly-Clark to design and implement ASRS solutions as part of broader RDS (Real-time Distribution System) implementations to grapple with unique storage and retrieval challenges.
The Dexion RDS is a multi-functional, tailor-made system that controls the physical and operational aspects of a company's distribution centre from receipt of goods through to despatch in real time.
Dexion is able to configure flexible RDS solutions to fit any individual task, regardless of how simple or complex the application. By simultaneously managing and co-ordinating paperless technologies, inventory is regulated throughout the distribution centre.
Benefits include:
• Improved allocation of resources, which leads to improved productivity
• Efficient use of capital investment (ROI is often achieved in under two years)
• Smarter picking controls delivering improved order accuracy (also reducing returns)
• Real time tracking and inventory reporting
• Physical equipment automation
• Staff and equipment performance monitoring
• Lower operating costs
• In 2003, Dexion was engaged by Kellogg's to revolutionise its unsustainable distribution centre, which despite accommodating 28,000 pallet positions across 27,000sqm, was almost entirely manually operated.
Dexion devised a system that could automatically process high demand volumes whilst also achieving high storage density. This involved co-locating a new facility alongside the Kellogg's manufacturing facility whilst maintaining the best storage density and maximising on volume throughput.
Dexion developed a state-of-the-art solution that included pallet conveyors, robotics and IT hardware. The new distribution centre held 32,000 pallets within the automated storage and conventional components of the warehouse. The ASRS enables pallets to be stored in five crane automated aisles, each six-pallets-deep, which can put away up to 90 pallets and retrieve 120 pallets per hour.
The results have been overwhelmingly positive – Kellogg's has seen a 10 percent reduction in pick error rate with the new system and production damage reduced by 85 percent. Labour cost has also reduced, with only half the forklift requirements needed in the new facility.
Dexion
Ph: 1800 100 050