Safety in the Workplace, News
Published 02-02-2021
| Article appears in November 2020 Issue
How a safety bollard has been modernised at Sigma Distribution Centres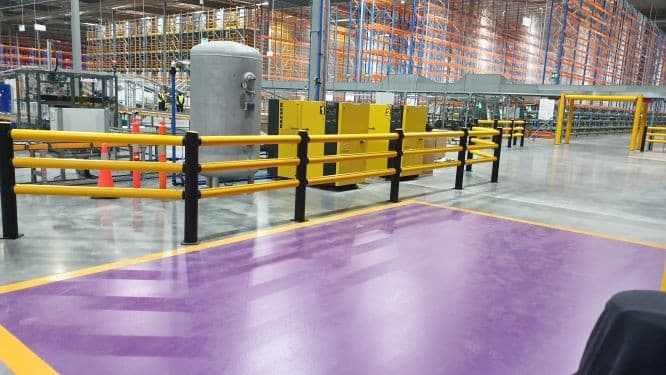 It seems strange to say, but a humble yellow bollard supercharged the way one business worked.
But for Sigma Healthcare, that's just what happened when they installed A-Safe products in their warehouses.
It all started with just one bollard in 2016, explains Program Manager Peter Petito, and it greatly improved how his staff worked.
From there, it kicked off a long-lasting partnership between Sigma and A-Safe that has continued to prosper.
"Before we had them installed, we were tossing up whether to have concrete bollards or have them bolted to the ground," says Peter.
"How high should they be? We also mulled over whether they needed to be dug into the ground and of course, comparing how much they cost.
"In the end, we decided to get just one A-Safe bollard and trial its effectiveness ourselves," he says.
So how else do you test a bollard? Bump a forklift into it, of course!
They tested the bollard at Sigma's Brisbane site to determine whether the product was effective.
"We found it did little to no damage to the forklift and more importantly, didn't damage the concrete flooring that the bollard was attached to," says Peter.
"It worked a treat!"
With the testing complete, Sigma installed more A-Safe bollards as well as pedestrian walkway barriers, height restrictors, wheel stoppers and column protectors.
The iFlex Pedestrian Barriers can withstand the impact of a 3.2 ton vehicle and are designed to flex and absorb the collision.
FlexiShield Column Guards help to avoid impact with Sigma's fire safety measures and the Height Restrictors ensure the forklift drivers maintain a safe working environment and flow of traffic.
The A-Safe products are abrasion-resistant, no corrosion and are UV protected and tested.
Sigma's healthcare products, including temperature-sensitive products, demand highly specialised climate and temperature control, sophisticated monitoring and experienced operations through the entire supply chain.
The company is a leading Australian full line wholesale and distribution business of pharmaceutical products to community and hospital chemists.
They also own the Amcal and Chemist King chains, among other networks, and service hospitals and healthcare facilities throughout Australia.
Sigma Healthcare was so impressed, they now have A-Safe products installed at their Perth, Sydney and Adelaide locations and will be fitting safety products in their soon-to-be-opened Melbourne warehouse.
Having invested over $230 million in its distribution centres and warehousing technology over the last three years, Sigma Healthcare's logistics infrastructure now provides market leading services to it's pharmacy chains.
Fast forward to 2020 and it has been critical to get products from their distribution centres to the outlets during the COVID-19 pandemic as increased demand means delays are highly impactful.
"Not only are they a great visual aid for staff as they look good, but they are fit for purpose and are cost effective," says Peter.
"The column guards have rotating bollards so the forklifts just roll right off them."
Mr Petito has been in the industrial space for some 25 years and says he's found A-Safe products "have revolutionised how we protect our staff and equipment".
"They're pretty simple products but they work and are cost effective."
Staff productivity increased as there was no downtime due to potential forklift mishaps and subsequent damage to concrete flooring. There is enough flex and rigidity to withstand impact from collisions while limiting external damage.
Sigma was not only supplied barriers capable of protecting machinery and equipment, but also with a hygiene focus due to the nature of products being distributed.
A-Safe complies with the International Organisation for Standardisation (ISO) 45001, an occupational health and safety management system designed to create safer working conditions around the globe.
Director of workplace safety at A-Safe, Mark Collins, says the process of becoming ISO 45001 certified was a stringent process but ultimately is worth the effort.
"When two companies are compliant with one internationally recognized standard, it makes the process of them conducting business together a whole lot simpler."
They have offices 16 nations across the globe and is a market leader in innovation in the safety sector. In 2001, they invented the world's first fixed polymer safety barrier and are now onto their third generation of barrier.
"It's a constantly evolving safety management system, which is brilliant," says Mark.
"There's continual improvement, meaning there's no risk of resting on your laurels and letting your standards slip in any way.
"We've been getting a lot of feedback about potential safety improvements," he says. "They've been approaching us, which is fantastic. It means we are getting input from the ground up."
A-Safe has seen its products implemented in a range of industries including manufacturing, warehousing and distribution, airports and carparks and services sectors that span from automotive to food and drink.
Not only do they manufacture pedestrian safety barriers, traffic barriers and corridor and wall protection, but have diversified into cold storage containment protection, airport equipment and baggage conveyor protection.
The partnership between Sigma Healthcare and A-Safe's products is hoped to ensure their high standard of service and supply chain distribution continues well into the future.