How Royal Apollo spearheaded Oceania growth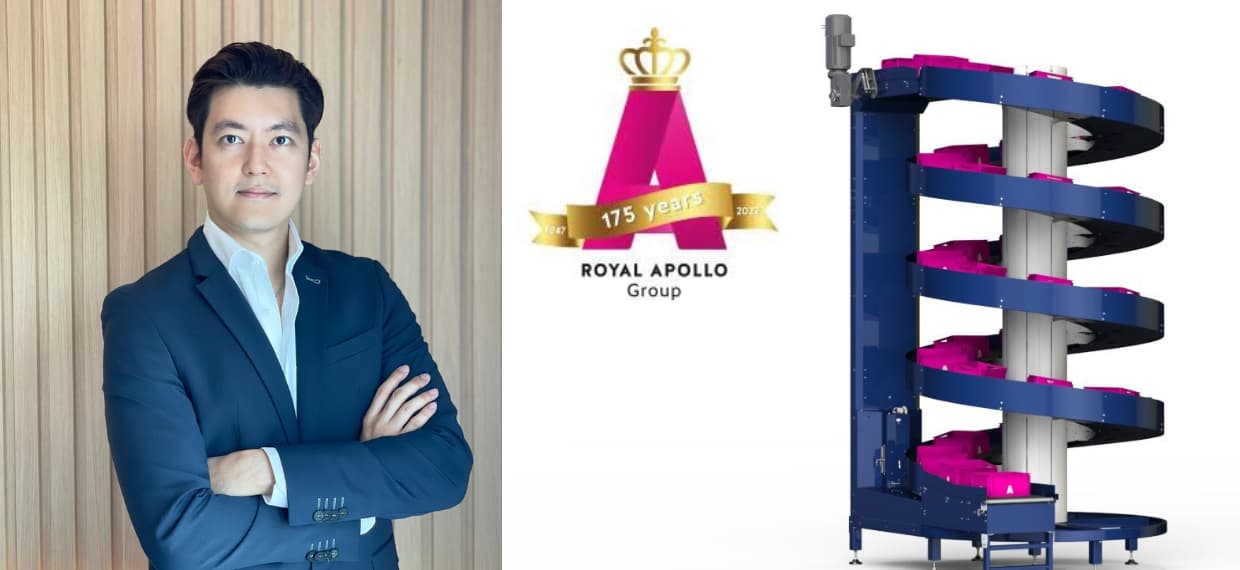 The Apollo Group is one of the world's largest manufacturers. In this Q&A we asked chief commercial officer, Kevin Suphapvanich about its growth within the Oceania region.
IU: Can you describe Apollo's activity within the Oceania market. How has that grown in the past two years?
KS: The Royal Apollo Group established a production facility and sales/service centre in Thailand five years ago to locally assemble, sell and service our Spiral Conveyors to the Asia-Pacific vertical conveying market. Initially, we were not very active in the Oceania market due to the pressing demand of East Asian and Southeast Asian markets. During that time, there were mostly indirect sales to Oceania through the European headquarters of some of our international system integrator customers.They would purchase and ship the spiral conveyors from Europe to Oceania themselves to integrate into the complete conveying line onsite.
Then from 2020, we significantly increased our focus and attention to the Oceania region. Unfortunately, it was also the year that the COVID pandemic started. This prevented our Asia-Pacific team from physically travelling to the area.We approached the market through digital marketing and also via established channels like Industry Update. We made the best use of our AR sales and service tools to gain rapport to our customers despite the distance. It also helped that our modular designed Spiral Conveyors are relatively simple to transport and install, even without the presence of our installation technician, through the use of pictured guidelines and AR service app. This resulted in significant brand exposure, customer base expansion, and sales growth within the last two years. But we are aware that we are just in the beginning stage and there is still much ground to cover in this region.
IU: What is your largest market in this region and what products are the most successful and why? 
Our Spiral Conveyors are used to transport packaged products in two main industries in this region.The first and largest industry is the food and beverage industry. Packaged food and beverages in bags, pouches, cans, jars, trays, cartons, and other primary and secondary containers sometimes need to be transported in large capacities and continuously up, down, or even over the production or filling lines. 
This is where our Spiral Conveyors make the best use of the limited space to elevate products. For example, we are able to convey up to 120,000 bottles per hour continuously 24/7. We can proudly say that the biggest beverage manufacturers use our Spiral Conveyors in their production facilities around the world.
The other fast-growing industry is the warehousing sector. Here, cartons, totes, crates, and even irregularly shaped products such as car tyres and golf bags can be transported on our Spiral Conveyors. E-commerce and express delivery services, such as DHL and Amazon, require multi-feed spiral conveyors to move goods to and from the multiple floors of their storage rack.
IU: What benefits do customers in this region gain from your product and service? 
KS: In 2022, our company, a family-owned 6th-generation business of Dutch origin, celebrates its 175th anniversary (as Industry Update readers may have found out from the previous issue). This year, we were also awarded the Royal title from the King of the Netherlands himself. This says something about who we are and what we stand for.
Our customers are actually receiving Spiral Conveyors from one of the pioneers in this niche vertical conveying market. On a glance, Spiral Conveyors may seem mechanically simple compared to the robotics of today, but there is actually a lot of know-how required to manufacture a robust and reliable solution.
For the Oceania region, our Spiral Conveyors are manufactured from Thailand. We have deliberately chosen this location, over other options such as China, to be our main production hub for the Asia Pacific region. We have made sure that the quality matches the machines assembled at our Dutch headquarters, less the European price tag and transportation difficulties.
IU: Could you talk about your participation in Auspack next May and CemAT next July?
With the opening of borders and reduction of travel restrictions, we took the first opportunity to join an overseas exhibition. That exhibition is Auspack in May, and we will be present with our own booth (D246). In July, we will return with another booth (B30) at CeMAT Australia.
We aim to convert our remote communication into physical meetings with existing customers and to meet new ones in person over the course of these two exhibitions. I hope Industry Update readers will be able to meet us at our booth as well!
IU: Given the current global disruptions could you comment on how you are managing with supply?
The cost of materials and the availability and price of transportation has definitely been impacted greatly by the current global disruptions. We aim to increase the percentage of locally-sourced parts to maintain production lead times, without compromise to the standard of quality of course. 
At the same time, we are establishing agreements with suppliers to maintain part prices where possible, so that our customers continue to receive the same prices. So far, we have been successful in maintaining our price and production lead time to customers.