How to reduce your waste costs
31-08-2010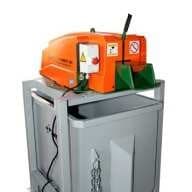 With the explosive growth of the recycling industry and its demands for a higher grade of pre-processed scrap, chopping scrap is rapidly becoming a necessity. 
It's a fact that a load of un-chopped scrap is a waste of valuable bin space. 
Scrap producers and recyclers agree – chopping scrap at the "point of generation" (POG) is the best possible solution. 
Sweed scrap choppers and separation systems help companies eliminate their scrap materials out of landfills. It also helps in achieving zero waste and landfill recycling goals. 
There is an ever-expanding list of scrap materials – plastic and metal strapping, ID and OD tube scarf, slitter trim, punch press, wire and cable, blades and more.
The Range of Sweed choppers have proven to be dependable in managing scrap recycling needs. 
Most models are stocked by Australian Warehouse Solutions in Brisbane, Sydney and Melbourne. Visit the AWS website for videos and technical information.
Australian Warehouse Solutions
Ph: 1800 023 890