How to raise performance and lower costs
23-07-2013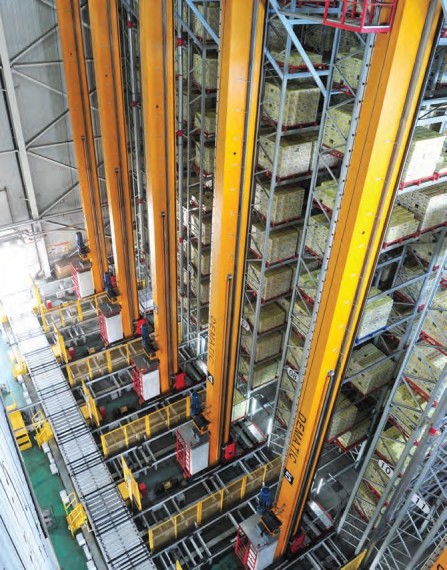 New Dematic RapidStore automatedstorage and retrieval systems (ASRS) are an impressive addition to modern materials handling.
These innovative systems deliver high productivity and throughput gains for all product categories from pallets to cartons.
Modular and ultra space efficient, RapidStore Unit Load (UL) and Mini Load (ML) solutions dramatically reduce land, building and/or leasing costs by maximising storage density, and significantly reduce the lead time, engineering complexity and costs associated with ASRS.
RapidStore UL is a new class of ASRS for fast, safe, efficient handling of unit loads like pallets.
Models are available in a range of sizes and speeds to precisely match storage and handling requirements, and are suitable for both new and existing facilities.
RapidStore UL offers faster cycle times than manually operated narrow aisle forklifts and, with the ability to run 24/7, the fully automated systems greatly reduce labour and operating costs, providing a rapid return on investment.
Systems can handle up to 1800kg in aisles only 200mm wider than the load, and can be up to 45m high, with throughput rates of up to 60 double cycles per hour depending on load weight, system height and aisle length.
There are five models in the RapidStore UL family. With lightweight single masts and fast operating speeds of up to 4m/sec, RapidStore UL1000 and UL1200 provide high-speed handling of loads of up to 1200kg to 30m high.
For those seeking to replace forklifts in warehouses with existing rack, the RapidStore UL1400 RF is the ideal retrofit option. The UL1400 RF is equipped with rotating forks enabling pallets to be fully turned in the aisle for fast handling, and it can handle loads up to 1360kg to 18m high.
With fast acceleration and travel speed, the RapidStore UL1500 is capable of handling loads up to 1500kg to 45m high.
The UL1500 can also be modified for chiller and freezer operations, and may be fitted with an optional operator cabin.
For dense storage of large or heavy loads, the RapidStore UL1800 can handle loads up to 1800kg to 33.5m high and can store pallets up to three deep.
Applications include archives, automotive and operations requiring the automated handling and storage of heavy unit loads.
RapidStore ML systems provide increased performance for the automated storage and handling of products such as cartons, cases, totes and trays weighing up to 450kg. Typical uses include kitting, buffering, staging and sequencing stock in manufacturing and distribution applications.
Dematic RapidStore ML and ML+ Storage & Retrieval Machines (SRMs) provide the ideal interface between bulk reserve stock and online stock in picking and assembly applications. They can be designed to meet height and throughput constraints, and tailored to meet any storage and handling requirements.
There are six models in the RapidStore ML range.
The ML10 and ML14 are the latest high performance solutions for dual handling of totes, trays, cartons and cases weighing up to 50kg, to heights of 10m and 14m respectively. Lightweight, aluminium masts ensure rapid acceleration and travel speed.
The lightweight, aluminium doublemasted ML20 ensures stability and safe operation up to 20 m high. The ML20 can carry one, two or three load handling devices (LHDs) in single or double-deep configurations, giving it the ability to handle and transfer up to six loads at a time.
The ML+300 is a heavy-duty, doublemasted ASRS made from lightweight, high-strength steel. It is capable of handling loads of 340 kg to heights up to 20m.
It is suitable for use with single and double-deep telescopic tables with grippers and extractors. The single-masted ML+350 and ML+450 are suitable for use with a range of specialised LHDs in applications as diverse as spare parts stores, machine assembly centres and libraries, where heavy loads are typically carried in steel bins or crates.
A brochure detailing the Dematic RapidStore family of Unit Load and Mini Load solutions can be downloaded at :
Dematic Pty Limited
Ph: 02 9486 5555