How portable CNC tools can give you a competitive edge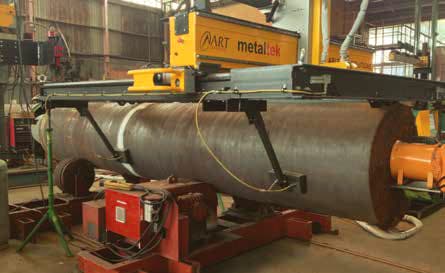 By David White – director of Advanced Robotic Technology (ART), Brisbane
Australia has historically dominated the mining industry, securing a position in the global top five for production of a majority of the world's most important minerals and metals.
Like most industries, Australia's mining sector has not been immune to the effects of the global economic downturn. But Australia's mining boom is not over, says a study commissioned by the Minerals Council of Australia, but its dynamics have changed and its policy demands are greater and more urgent.
The report by the Australian strategy consulting firm, Port Jackson Partners, suggests that over the next 20 years, demand for key minerals will increase by between 50 percent and 200 percent.
While growth in iron ore demand slows as infrastructure is developed, there is likely to be new growth in demand for products such as copper, aluminium and other minerals and metals and consumers demand more sophisticated products.
If Australia can maintain market share through the next two decades, the country's minerals revenue could increase by $121 billion per annum by 2031 – a 65 percent increase for a sector already twice the size it was in 2006, the report suggests.
Remaining at the forefront of system innovation
In order for Australia to continue to reign in the market over countries such as the US, South Africa, and Canada, mining executives must remain at the forefront of system innovation and application of emerging technologies.
The Federal Government has recently announced a program to establish ten Industry Innovation Precincts to drive and support the growth and competitiveness of Australian industries. As a highly significant sector of the Australian economy, the Mining Equipment, Technology and Services (METS) industry is built on innovation, producing technologically advanced, globally competitive products and services for mining companies worldwide.
In order to produce these globally competitive products, the METS industry needs sophisticated and highly productive machinery, which is most of the time sourced from overseas. But the success and rapid growth of the Australian mining industry has also relied on domestic innovation and technology developments, and Brisbane-based CNC machinery manufacturer Advanced Robotic Technology (ART) has over the last couple of years developed automated CNC machinery to make companies more productive – in the workshop or on site, where mine operators face the daily challenge of improving productivity while simultaneously reducing costs. The tendency is often to run equipment at maximum capacity for longer periods between maintenance in an effort to keep the product flowing and maximise the return on investment.
Avoiding premature machinery breakdowns
Some plants are running equipment that is long overdue for maintenance because the impact of having the unit out of service for an extended period is just too costly. Sometimes equipment can be years overdue for vital repairs. Unfortunately this can lead not only to machinery that becomes inefficient, but also to premature breakdowns and possibly increased danger to workers.
One of the obstacles to performing precision maintenance and repairs on site has been the need for precision machining of replaced or resurfaced components. For this reason, we have developed the Metaltek series of portable CNC machine tools that can be assembled on site, often directly on or in the machinery being refurbished.
The system is comprised of modular components that are reconfigurable and extendable to provide a very capable and flexible machining platform.
The key to the Metaltek system is the unique ART controller which is able to perform a wide range of machining tasks which have never been possible on one machine before.
Milling heads are a standard feature and allow processes such as:
• Surfacing
• 3D shaping
• Pocketing
• Drilling
• Reaming
• Trepanning
• Tapping
• Thread milling
• Slot cutting
• Oval milling
Apart from these standard functions above, there are a large range of optional heads and features that can make even the toughest jobs much easier.
The innovative Metaltek series of CNC machines from ART provide a new level of sophistication that has not previously been available to engineers in the field. Now precision can be achieved on site that would previously have required many different workshop based machines to perform.
Advanced Robotic Technology Pty Ltd
Ph: 07 3393 6555