Published 12-01-2021
| Article appears in February 2021 Issue
How the pandemic became the catalyst for change in manufacturing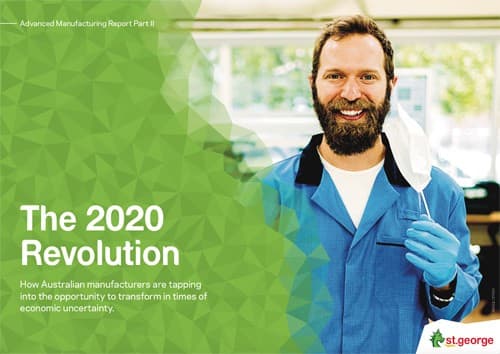 For all the challenges COVID-19 has delivered, it has also highlighted the agility and innovative nature of Australia's manufacturers. This report by Industry Update, based on a St.George special report – The 2020 Revolution – examines the impact on the sector.
As the coronavirus pandemic has upset just-in-time global supply chains, Australian manufacturers large and small have moved with extraordinary agility during the crisis – quickly transforming to produce products most immediately needed to keep Australians safe, from face masks to hand sanitiser.
Simultaneously they have been shoring up their own longer term futures by finding different ways to co-operate, manage supply chains, accelerate innovation, transform business processes and reach new markets.
Along with exposing the gaps in Australia's manufacturing supply chains, COVID-19 also revealed the nation's vulnerability, as a commodity-based economy, to external shocks, and highlighted the need to reverse the hollowing out of our manufacturing capability, says Professor Roy Green, Chair of the University of Technology Sydney Innovation Council.
While many businesses have been severely compromised by the effects of the global pandemic, a large number of Australia's quick-acting manufacturers have capitalised on the opportunity to transform, tapping into a groundswell of support for local products while also becoming more globally competitive.
Overall, manufacturers are finding innovative ways to do almost everything, from changing the types of products they make, to rethinking production methods, supply chains, distribution models and logistics.
Typically, they are collaborating online to achieve success with new partners. "They've realised the power of working together … and sharing that knowledge to transform their business. It's really the digital transformation of manufacturing," says Michael Sharpe, NSW Director of the Advanced Manufacturing Growth Centre (AMGC).
Commonly, companies are initially agreeing to collaborate in the national interest. Take the example of US company Stryker. Faced with surging demand for hospital beds, Stryker called the AMGC for help in establishing manufacturing in Australia.
Within hours the centre had pulled together a local supply chain. Mattress manufacturer A.H. Beard, wheel and castor maker Fallshaw, vehicle conversion specialists AmTek Australia, and fabrication and engineering company Varley Group joined Stryker South Pacific to get production moving ASAP.
"Within two weeks the first hospital beds were being produced", says Mr Sharpe. Now, 500 hospital beds have been procured by the Department of Health in Western Australia.
For the Australian businesses involved "the goodwill and the willingness to adapt and stand up for the nation was certainly a proud moment", he says.
There has also been a welcome fundamental shift in how manufacturers market themselves. "We've got members that are doing heavy engineering work, producing low-loader trailers in the mining and earthmoving sector … but suddenly advertising on Facebook and finding new customers. It shows a new willingness to try new things in new ways," says Mr Sharpe.
What the next normal means for manufacturers
Plans for greater national self-sufficiency, shorter supply chains and onshore manufacturing are well underway.
While a post-COVID world will certainly look different, the pandemic won't spell the end of doing business globally for Australian manufacturers. However, there will "definitely be a reset", says Tim Harcourt, the J.W. Neville Fellow in Economics at UNSW Business School, and part of that will involve a diversification of supply chains.
The pandemic provided a wake-up call.
"I don't think people want to be – frankly – as dependent on China in the global supply chain anymore," Mr Harcourt says. Certainly some will bring their manufacturing back home, he predicts, while many others will trade and work more widely around South-East Asia and North-East Asia.
St.George's head of manufacturing and wholesale Matthew Kelly says the early government support to bring more manufacturing back onshore is encouraging. Federal Minister for Industry, Science and Technology, Karen Andrews has already flagged the need to "get behind the push to diversify our supply chains".
One of the challenges will be skilling of the workforce, says Mr Kelly. With higher unemployment, some deep thinking is needed on how TAFE, government and industry can work together to attract and train potential new manufacturing workers, including those recently unemployed from different industries.
Just what policy settings are needed is something many hope the National COVID-19 Coordination Commission – tasked with breaking through bottlenecks and fixing economic and social problems caused by the pandemic – is examining.
While the COVID-19 crisis has exposed deficiencies in Australia's economic approach, Professor Roy Green, Chair of the University of Technology Sydney Innovation Council is asking for a fundamental redesign. He is calling for a new National Industrial Strategy Commission, or similar central agency, to develop priorities in consultation with industry sectors, aimed at growing industries of the future with new technologies, skills and business models.
From the Australian government, a robust, properly funded national policy framework is required, while the states should carry much of the responsibility for delivering business services and infrastructure for innovation hubs and industry clustering, he says.
Building capabilities for the future
Manufacturers are primed to bounce back and for those who do, the pandemic-induced trend towards collaboration will need to continue into the future.
"Collaboration is a key driver for advanced manufacturing," says Michael Sharpe. "We need more and more companies working together and supporting each other."
Currently many companies are sharing resources – including staff and skills. "There's a great community movement happening out there right now," says Mr Sharpe. He cites the example of metal fabricator Rose Valley Steel Works in Armidale in north-west NSW collaborating with industry counterpart R&R Murphy, four-hours' drive south, to share knowledge on robotics production.
"They are able to support each other across phone calls and sharing knowledge about what it takes to incorporate robotics technology into an engineering firm," says Mr Sharpe.
Roy Green is of the view that a transformation in consumer attitudes – in the preference to buy locally-made goods, which also translates to procurement processes – will help to drive a resurgence of Australian manufacturers.
Next horizons: what lies ahead?
Many Australian manufacturers have been operating at warp speed since coronavirus hit.
Their "fluid and fast-moving" response demonstrates beyond measure the smarts of our manufacturing community, says AMGC's Michael Sharpe. "We've got 47,000 manufacturing companies in Australia and I see that as a key strength, because the majority of them are small and family businesses, but the ability to be agile and adapt quickly is a key strength to Australia's economy."
As companies look to innovate, collaborate, diversify supply chains and secure vital products during challenging times, Australian manufacturers have a massive and uniquely timed opportunity.
Roy Green believes it can be done – as shown by Germany, Switzerland, Korea and Japan where, driven by knowledge and ingenuity, manufacturing and related services deliver high-productivity and high-skill jobs. Success is driven by smart specialisation in global markets and value chains, with an unrelenting focus on quality, design and innovation.
At the grassroots level, much of the focus to date has been on the intrepid, in-the-moment agility of Australian businesses.
However, St.George's Matthew Kelly is convinced many of the changes adopted to date will stick. He looks to the future of the sector with a fresh positivity. Clear indicators are in simple facts, such as the 30 per cent of manufacturers who, amid the turmoil and uncertainty, have actually changed their processes in recent months, he says.
"There needs to be a positive out of this pandemic, and in the vast majority of cases, I think it has been good for the manufacturing industry," Mr Kelly concludes.