HOW PALLET INVERTERS CAN BOOST PRODUCTIVITY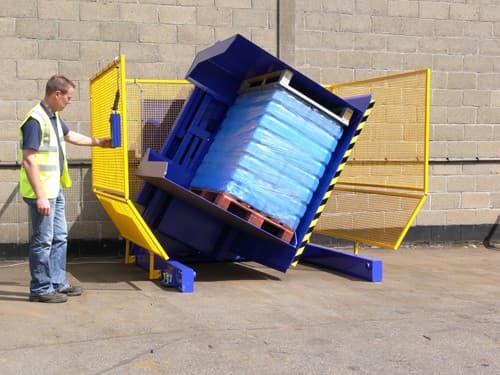 Pallet inverters have become an integral part of many companies' workflow.
With a pallet inverter you can switch the load to your own in-house or plastic hygiene pallets without having to manually un-stack the load.
They are ideal for:
Replacing broken pallets

Replacing rented pallets

Squaring the load

Replacing damaged cartons or bags on the bottom layer

Changing from export to Australian pallets and vice versa

Inserting slip-sheets

Removal of freezer spacers
Perhaps you need to turn the load for other reasons, such as keeping the cork moist in wine bottles or some cheeses lose their shape and need to be inverted too.
BBJ Materials Handling offer a range of Pallet Inverters that can be built into production lines or can be used as stand-alone machines.
The range spans the gamut, from budget models to heavy-duty inverters, which can handle wide and heavy loads.
Stand-alone models include machines that turn 180˚, 90˚ and even machines with no rotation mechanisms. The popular FS range is used for forklift loading/unloading and all the other models can be used for forklift as well as pallet truck loading/unloading at floor level.
The BBJ range also includes four inline inverters that can be integrated seamlessly into your workflow.
BBJ work with automation companies to create systems incorporating pallet stackers, dispensers, conveyors, layer pickers, slip-sheet inserters and pallet wrappers. This is extremely cost effective as there is a reduction in personnel and forklift costs while safety levels are dramatically increased.
BBJ materials handling also cater to the pharmaceutical and food manufacturing sectors as the pallet inverters can be built with stainless steel versions and/or anti corrosive paint options for use in sterile and heavy duty environments.
To complement their range of inverters BBJ materials handling also have an extensive range of forklift attachment combinations that enable palletless loading into containers and (automated) slip-sheet adding/removing.
BBJ Materials Handling
Ph:  0422 464 176