HOW LASER CUTTERS ARE HELPING TO CREATE PRODUCTS OF THE FUTURE
31-03-2015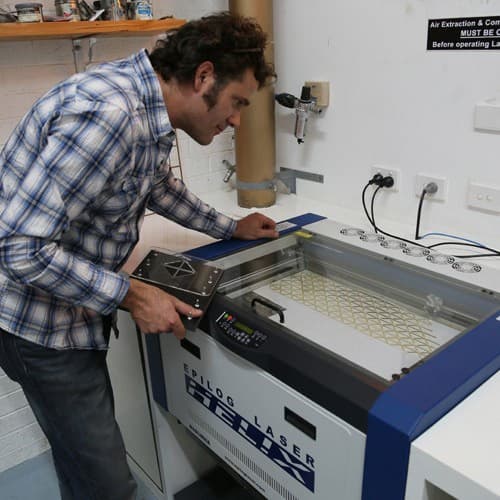 A partnership between VicRoads and Dynamic Connection is helping introduce the concept of autonomous cars and future traffic control systems to high schools. And all with the aid of laser cutting equipment writes Jonathan Jackson …
It is not often that we think about the way advanced manufacturing inspires creativity, yet everyone from technology innovators to artists are embracing technology advancements and machinery breakthroughs.
As this happens, we will enter a new and flourishing era of creation.
One man who is leading the charge in this new era is Roland Gesthuizen, who heads up Dynamic Connection with business partner Russel Jenkins.
The pair was tasked with organising a school project for a 2016 international conference that showcases the work of students across the world.
For this particular challenge, the plan was to build a prototype autonomous car, run a pilot and then organise an international challenge involving partner schools.
The challenge embraces algortithmics, programming, control, robotics, engineering and electronics all working together to turn the autonomous car into a commercial proposition.
Working at Space Tank Studio, Gesthuizen is using advanced laser cutting machinery supplied by Alfex CNC Australia to cut a template of the car for students to work with.
Alfex CNC were quick to jump on board with Space Tank Studio supplying an Epilog Helix-50watt Laser Cutting & Engraving System, recognising the community benefits of supplying equipment that could help provide a template for future innovation.
"We recognised the desire shown by designers and innovators to create advanced pieces of technology as well as near perfect works of art," says Alfex CNC Laser Division Manager Jordan Buhagiar. "We wanted to be involved with that and give something back to this vibrant community."
The intricate detail of the model that is being created by the Epilog Helix laser cutter will allow students to build in all the necessary componentry to create a model car that not only moves, but thinks as well.
Gesthuizen approached Space Tank Studio founder and director Holger Dielenberg to use the equipment.
"Gesthuizen is working with VicRoads to invent a self thinking car," Dielenberg says. "VicRoads has tasked him to come up with a kit for the car, which students will then put together. Roland came to us to help him cut the actual body of the car. Space Tank Studio supports a multitude of creative entrepreneurs and innovators with machinery and technology so we were very happy to help him."
Dielenberg was impressed by not only the passion of the teacher, but the project itself.
"Helping Roland with laser cutting his prototype gave me an opportunity to appreciate the 'Cool', 'Fun' and 'Educational' factor that this project embodies. It also further exemplified how valuable the Epilog Laser Cutter is to this community. When you see how it can be used for projects such as Roland's, who is a mad scientist that someone let loose in high school classrooms, it is very inspiring stuff."
This is what smart cars of the future will look like and the laser cutter has a large role to play in building the prototype.
Of course it is not the only project in play at Space Tank Studio, printmakers are also benefitting through the ability to transfer any image straight to a Laser Engraver, scale to any size and print with a traditional printmaking press.
The process is clean, efficient and cost effective.
Ben Walsh is one artist at Space Tank who turns up every Tuesday to teach himself how to use the Epilog Laser cutter to replicate any image whether it is a painting, sketch or photo into a traditional etching print.
"You can send images via Illustrator or Photoshop to the laser cutter and then programme the machine to engrave the image onto acrylic or another surface, or ink the image with different colours and do vector cuts for each sector."
Laser cutting equipment is in demand for a reason.
It can help build anything from autonomous cars to fine works of art and as more and more people become aware of the benefits, it is likely that the creativity and innovation we see will become more intricate and have more community benefit.
If you'd like to view some of the great work being done at Space Tank Studio using the laser cutter, check out their Facebook page.
Alfex CNC Australia
Ph: 1300 201 510