HOW INDUSTRY 4.0 CAN DELIVER IMPROVED WORKPLACE SAFETY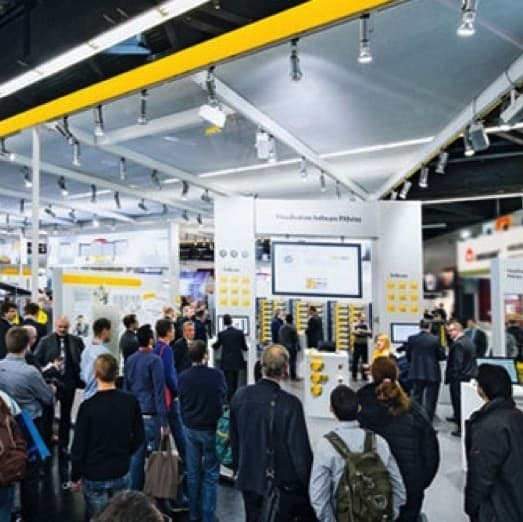 Pilz, a global leader in automation safety, was a star attraction at the recent Hannover Messe trade fair in Germany. The company's booth was in a sea of firms offering products and services for the manufacturing transformation known in Germany as Industrie 4.0 or also known in Australia as the Industrial Internet of Things.
Pilz GmbH President Thomas Pilz and Australian Managing Director Scott Moffat discuss the need for investment in "Industry 4.0" to preserve manufacturing in Australia while ensuring higher levels of safety ...
The stakes are high for Western countries that have watched manufacturing migrate to a number of the Asian countries such as China and Vietnam where labour rates are much lower than in Australia or Germany, Mr Pilz told Industry Update.
He likened the change needed to when the US developed the Marshall Plan after World War II and helped Germany invest in the latest manufacturing technology.
"We have an installed base and old plants," says Mr Pilz. "If we don't invest in Industrie 4.0 technology, we run the risk of being overtaken by countries like China that don't have these old legacy plants and industry to sustain."
Few companies at the trade fair were better prepared for this technological revolution than Pilz, a family-owned firm based in Stuttgart, Germany with more than 2,500 employees.
Thomas Pilz' sister, Susanna worked with German authorities to develop the initial concept of Industrie 4.0, which is described as when "people, machines, equipment, logistics systems and products communicate and cooperate with each other directly. Production and logistics processes are integrated intelligently across company boundaries to make manufacturing more efficient and flexible."
"We feel the need for customized products at the cost of mass market products will help drive the Internet of Things and Industrie 4.0 technology" said Mr Pilz.
The belief that new technology is needed to compensate for high wages extends beyond Western Europe, US and Australia, he said.
"You really can't say what are high labor costs."
"China feels they have high labor costs. All of us can only laugh about that but they think it is way too expensive to manufacture in China and so they need to automate with robots. And because China is faced with Industrie 4.0, it is very possible that those technologies will grow fastest in China."
While Mr Pilz advocates that companies invest in the new technologies, he and his Managing Director in the Australia, Scott Moffat, both say many customers are still taking a wait and see attitude toward the new technology.
"They want to make sure that this isn't a fad, that it isn't going to go away," Mr Moffat observes. "They want to make sure that this actually makes good business sense. Over the course of time, they will be convinced, just as they were with safety. It will take a little more time in Australia as Europe has certainly got the jump on us."
"If Australia is to be a competitive manufacturer on the global scale then we need Industrie 4.0 as the framework to provide this. Not only do we need to learn from Germany and the US who are leading the charge, we also need to invest in flagship projects or industry initiatives that assist all manufacturing businesses in Australia with the up take of the technology," says Mr Moffat.
"Look at your people first," Mr Pilz advised. "You can only implement technology that the people that work with you can actually handle. Give them a chance to grow with it. Try smalls steps. Everyone who has walked in and said this is the big picture concept and I am going to implement it in one big step fails."
Industrie 4.0 won't be just a matter of reconfiguring plant machinery and introducing new processes. Pilz expects it to have a profound impact on how plants are operated. For example, he said that managers in a plant who do scheduling will not be needed in the future when each device being manufactured has a sensor and the plant can actually schedule itself automatically.
"We feel the need for customized products at the cost of mass market products will help drive the Internet of Things and Industrie 4.0 technology," said Mr Pilz.
"When it is demonstrated that you can bring back jobs from the low-cost countries into our industrial environment, whether it be in Australia or Germany, then people will buy into the technology. If we can't prove that, then it's just another gimmick that no one will invest in."
Pilz Australia
Ph: 1300 723 334