HOW TO GENERATE LEADS WITH CONTENT MARKETING
31-08-2017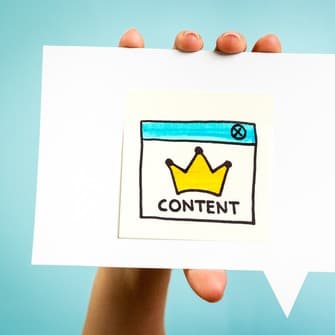 These days, there are many opportunities to advertise content in industry journals or on equipment sale websites. However, these are typically geared to businesses with large ad spends. So how can an SME get into the game and measure ROI? The answer is content marketing, combined with Google Analytics.
My advice is to use the content marketing technique called The Inbound Methodology. Essentially, it's the best (and most cost-effective) way to turn strangers into customers, and customers into promoters. In this article, I dig deep into what content marketing involves for SMEs, why it's important, and how to generate leads.
The types of content
Content is a powerful lead generation tool. It involves the creation of valuable, relevant and consistent content such as articles, "listicles", checklists, ebooks, infographics, guides, interviews and videos to build brand awareness, generate interest, and stimulate discussion. The size, shape and length of the content are just as important as the message itself, and should be tailored to speak directly to your customer's pain points and answer queries they have.
To get the most of your content, it's important to research the right topics and produce evergreen content. That is, content that is timeless, easily found by search engines, and always remains applicable to reader interests. You should also research what your competitors are doing and how they're ranking, and ask yourself – can you do better?
Length, quality and frequency
How long should a piece of content be? There's no magic number here, as word count isn't the stand-alone factor for good SEO rankings. However, the most important thing to remember is that word count only matters if the content is high quality. So before you consider length, make sure you have something relevant and engaging to write about.
Now, let's consider blog posts. According to a study by marketer Neil Patel, for the manufacturing industry the ideal length for an article is between 1700 and 1900 words. Why this number? Certainly, for some industries, content marketing if becoming so prevalent that a post of this length will not break through the noise anymore, and even more in-depth pieces are required.
However, simply put, the manufacturing industry doesn't typically engage in a high level of content marketing. Writing an in-depth blog with the right keywords will help you get high rankings, without needing to go into the huge level of detail that may be necessary for other industries.
In terms of frequency, it's not about posting every week for the sake of it. You should only post when your content is compelling and serves the objectives of your strategy. You also need to consider your buying cycle – does it make sense to post a blog every week if your customers only buy from you every four years? Customers need to engage with the right piece of content at the right time in their decision-making process - not necessarily be bombarded with email newsletters every week telling them about another feature of your product.
What does content marketing achieve?
It's no secret that content marketing is one of the best ways to reach new customers. It helps drive traffic to your website, boosts brand awareness, establishes your company as an industry leader, and gives your audience useful and actionable insights into your product or service.
But so many industrial companies don't see themselves as publishers of content. They're more focused on selling their products and services. This is fine, but content marketing should be thought of as a long-term investment based around building trust, reaching new markets and forging new relationships. Done successfully, content marketing can reduce your reliance (and spend) on traditional advertising. The content you've created develops an inbound channel for people online who are ready to engage with your business.
Content marketing, particularly in the manufacturing industry, also offers a way to rank well for featured snippets of content. Check out this one for the search "How to clean an electric forklift?".
You can do this by creating content around relevant questions that are frequently asked and searched for. Displaying in these results (sometimes called 'position zero') can greatly increase your visibility and consequently, traffic to your site - which is good for both SEO and conversion numbers.
The importance of calls-to-action (CTAs)
While the ultimate aim of content is to inform and engage your customers, it'd be foolish to miss the opportunity to ask them to take a desired action. This is where good CTAs come into play. Put simply, every piece of content should include a CTA. In fact, over 90% of visitors who read your headline will actually read your CTA too.
So what makes a good CTA? First, it needs to relate to your content's objectives – whether that's to improve time on site metrics, attract more social followers, make a sale, or build your email database.
In the example below, the CTA asks prospects to download a free eBook, in exchange for handing over their email address. Given the success of email marketing, this is a great way to open opportunities to continue conversations with your readers, and ultimately, transform them from an unidentified user on your site to a potential lead you can market to.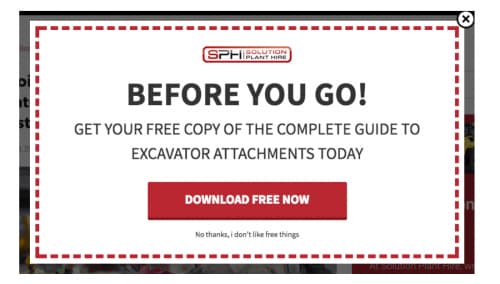 The key here is to make an offer such as this relevant to the piece of content the user is interacting with. The more focused the offer, the more successful it will be, as it answers a need that the user has already told you they have by clicking through to that piece of content.
Secondly, your CTA needs to be written well. To give you an idea, here are some basic principles to follow when writing a CTA:
Keep it simple using concise language
Be clear on the benefits for the user
Create a sense of immediacy
Use CTAs throughout your content, not just once
Optimise for devices
Test and measure
Make it relevant to the content
The bottom line? Not using CTAs is a missed opportunity – so make them count.
How to capture data from content marketing
We all know how important it is to see results. But if you don't have a way of capturing data and leads from your visitors, you're not doing your business any favours in hitting online digital marketing KPIs.
Don't have a CRM (customer relationship management system)? Our suggestion is to use the free version of HubSpot. It's a hugely valuable and simple to use digital marketing tool with premium support. Essentially, capturing data from your content marketing offers you deeper insights on your leads, and ways to properly optimise your content.
Get into the game
In the industrial sector, the market is saturated with competitors, but many are still focusing on traditional marketing techniques. The digital sphere offers plenty of avenues to engage with new potential customers, and there's so much opportunity to make an impact online, fast. For SMEs, content marketing isn't just one of the simplest solutions – it's the most cost-effective too.
Jessica Grassick is an SEO and content marketing professional with 5 years of growth marketing experience. Jess has worked in the materials handling industry before moving across to Web Profits, a premier Google Partner agency and recently awarded Rising Agency of the Year in 2017 by Bing. Jess has first-hand knowledge about the unique challenges for industrial and manufacturing businesses in the digital world. Feel free to connect with Jess on LinkedIn.