HOW FANMASTER CAN CREATE THE IDEAL WORKING ENVIRONMENT
05-04-2016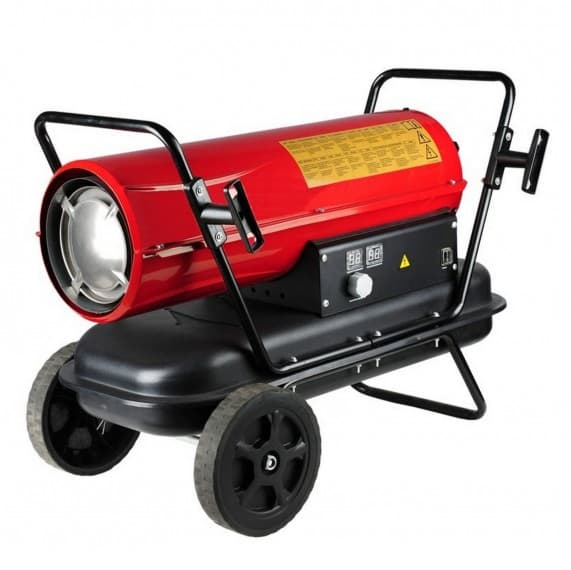 With winter fast approaching businesses are seeking the most energy efficient ways to maintain a comfortable working environment.
Fanmaster, a leading manufacturer of high quality industrial and commercial heating, cooling and ventilation equipment, has the ideal solutions.
Fanmaster offers an extensive range of economical portable and fixed heating products that will suit just about any application.
The company supplies electric heaters, gas heaters (LPG & natural) and diesel heaters that are either designed to heat the entire area or heat people and objects within the area.
Fanmaster supports many industries including industrial & manufacturing, mining, commercial, agricultural and farming.
The company recently launched the new and improved model IDH2-20 portable diesel fan heater, which is ideal for warehouses and factories.
The IDH2-20 is available in three sizes – 20kW, 30kW & 50kW.
The new model includes:
·       Auto-ignition start
·       Temperature and fuel gauge
·       Quieter operation
Fanmaster also supplies a range of portable electric and LPG heaters.
The Fanmaster range of space heating solutions is designed to give flexibility and dependability to heating.
Fan heaters can be used either with an electric element as a heat source or fuel combustion as a heat source, with a fan that projects the heated air.
They are designed to heat the air inside a confined space.
Fan heaters are an extremely effective way of keeping temperature at a consistent level, provided there is nowhere for the warm air to escape.
However, if you are looking to heat workers in an open area or outdoors, it may be wise to consider a radiant heater.
Radiant heaters are used to heat people or objects within a designated area. They are also a handy tool for drying applications.
There are many varied uses for radiant heating. When the worksite or area is too cold for workers or objects to dry radiant heaters are at their most effective when placed around workstations, within close proximity to drying applications, or in commercial areas where it is important to keep customers warm.
Radiant heaters will have little effect if you are trying to heat an entire factory or warehouse.
Predominately, radiant heaters use less power or fuel than space heaters. Fans are not used in these heaters and they produce a warm sunlight style heat.
When choosing a radiant heater there are a number of factors that need to be established before making a decision. 
Fuel Source
·       What Power do you have available or what fuel source do you have readily available? (e.g. 240v 10amp or 15amp – gas or diesel)
·       Volume of people or objects that you are trying to heat
·       Hazard reduction (Is the heater likely to be a trip hazard or does it require mounting on a wall?)
·       Flexibility (Is the heater going to be moved around often or will it be stationary?)
Gas Tube (GTS) radiant heaters are available in a variety of sizes, depending on the application. They are not always suitable for heating for warehouses and large rooms.
Should you use fuel or electricity?
Whether to use a fuel (gas or diesel) versus electricity to heat your working space is often a question that is asked. Using a fuel is twice as effective as using electricity when it comes to the output of heat. Electricity is used where the naked flame of combustion cannot be used due to flammable or toxic environments.
If in doubt, you should talk to the experts at fanmaster.
Ventilation in colder months
Ventilation is also vital during the colder months.
In winter, many businesses will roll down the shutters of their premises, and blast hot air into them to aid in the productivity of their workers.
While in theory this is well intentioned, the reality is that creating an optimal working climate can be a double-edged sword if heating is the only consideration.
Carbon Monoxide is a by-product of burning fuel that is potentially life threatening in large amounts.
Having an adequate ventilation solution is paramount in not only the comfort of workers, but also to comply with workplace health and safety requirements.
Fanmaster ventilation and fume extraction equipment is second to none.
The highly skilled team can fabricate high quality roof ventilation, wall ventilation and portable ventilation for extraction from the source.
Fanmaster believe that providing the correct combination of both heating and ventilation is the key to climate control in the workplace during the colder months. Checking the air quality in your workplace could perhaps save the integrity of your business and minimise the risk of litigation.
And of course, keeping your workforce safe while keeping them warm will result in higher productivity and a better return on investment.
If you are unsure about your heating requirements, the expert team at Fanmaster can provide the right advice.
The Fanmaster range is synonymous with quality, affordability and reliability.
Fanmaster is a wholly owned and run Australian business, with a reseller network throughout the Asia-Pacific region.
Contact Fanmaster for more information or if you need advice on the right product for your application.
Fanmaster
Ph: 1300 900 345