| Article appears in October 2021 Issue
How Enterprise Resource Planning Might Revolutionise Manufacturing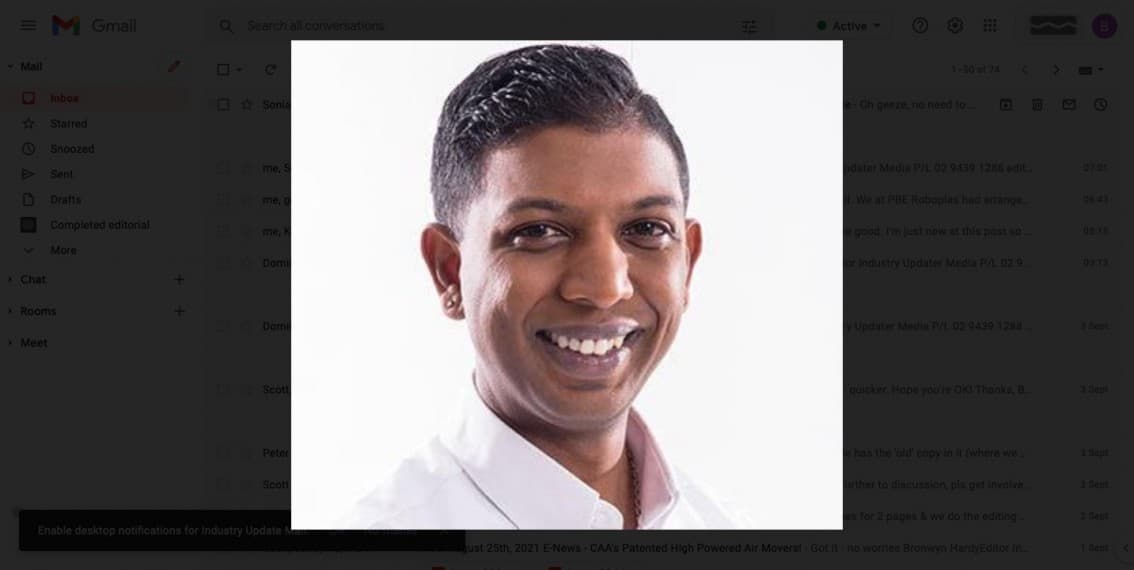 Kevin Dherman, Chief Innovation Officer at SYSPRO, shares his outlook
The last eighteen months literally changed the status quo for manufacturers and distributors. Within a short timeframe, the industry had to contend with continuous supply chain disruptions, operational inefficiencies and the increased need for remote collaboration. In fact, our research from 2020 showed that 45% of businesses were unable to operate at the same levels of distribution efficiency enjoyed before the pandemic.
While some are finding a sense of stabilisation in the short-term, the pandemic has also laid the foundations for several long-term challenges in the industry. The pandemic opened the door for new competitors, an increased need for predictive data and a need for new customer-centric business models. Many believe that digital acceleration could be the answer to addressing these challenges proactively, to ultimately secure a digital future. Here is how.
1. The Challenge: The Ascent of the Small Business Disruptor We've all heard of industry disruptors such as Netflix that disrupted the traditional entertainment sector and of course Uber that disrupted the taxi business. These game-changing, innovative start-ups entered the industry with a new customer centric business model, displacing conventional business models as we know them. They had a complete understanding of changing customer needs. It therefore comes as no surprise that disruptors are starting to shift the dial in the manufacturing industry too. During the pandemic, the world realised that manufacturing was not as agile as it should have been. With a reliance on manual processes and legacy systems, manufacturers simply could not respond quickly enough to industry disruptions and customer requirements. This left a gap in the market, with the subsequent emergence of smaller, niche players that could address direct customer needs because of their ability to tap into emerging technologies and the right capabilities to compete in the marketplace.
The Solution: Levelling the disruption playing field with ERP To compete at a greater scale, replacing manual or legacy systems is key to improving visibility of critical data, increasing productivity, reducing waste, lowering production costs, enabling greater quality control and improving the management of schedules and production rates. Having accurate and real-time visibility into inventory levels will provide additional competitive advantage. An ERP system can support this by allowing businesses to analyse forecasted demand, accurately predict production targets and meet demand levels. ERP can also automate the process of balancing material supply, as well as product and service demand.
2. The Challenge: B2B takes the leap towards B2C The pandemic also shone a spotlight on the importance of a digital customer experience and opened the door for eCommerce opportunities. In fact, our 2020 study showed that 67% of businesses who had the ability to initiate digital strategies such as eCommerce, digital supply chains and remote working could continue to trade effectively during the pandemic. These businesses also leveraged APIs to plug into other eCommerce platforms such as Amazon to further widen the supply chain. The benefits of shifting from a B2B to a B2C model are far reaching. This mean companies now have direct access to their customer base 24/7, the ability to gather customer data to improve operational efficiencies and the ability to innovate.
The Solution: Achieve Agility with ERP It is now customers, not production efficiency, which defines the future of a manufacturer. With this in mind, ERP can help ensure that a business is digitally enabled to grow, while improving the overall customer experience. Not only is it adaptable enough to allow integration with other platforms, but it also removes the burden of managing physical software updates and the need to plan for downtime.
3. The Challenge: Data is a Deal-Breaker During the pandemic, manufacturing businesses were suddenly faced with supply chain disruptions with little to no ability to predict future developments. Real-time data analysis and connectedness is vital for greater visibility across the supply chain to ensure that the right levels of inventory and raw materials are ordered and delivered, in the right quantities, and at the right price. Data has therefore become a deal breaker in ensuring customer and supplier success.
The Solution: ERP as a single source of truth Manufacturers are learning that ERP systems make it easier to leverage the deluge of data that's coming in from connected sensors in their factories, inventories, and raw materials, and from signals along the supply chain. ERP also allows businesses to operate with real-time data while automating tasks. The key to success in this new digital era is selecting an ERP platform that is built from experience and designed with the needs of manufacturers and distributors in mind. By integrating the operations into an ERP platform, organisations can ensure agility, connectedness and embrace innovation to transform their businesses for enhanced growth and long-term sustainability.