How to effectively manage contractors
31-08-2010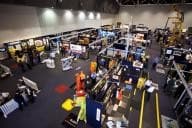 Many organizations – from big miners to small construction firms – use contractors for flexibility.
Contractors can give a company the option of quickly scaling their workforce up and down to meet changing operational requirements.
However, while most firms conduct initial insurance and certification checks at the point of employment, many find tracking expiration and renewal unwieldy, and fail to follow up with effective contractor management.
"When a contractor is uninsured or does not have up to date training or certificates contracting firms can be left exposed financially and have their reputations significantly damaged," says Adrian Manessis, spokesperson for safety management software specialist, myosh.
"Companies have lost large contracts as a result of the mismanagement of contractors.
"To compound the issue, under the new OHS harmonisation laws the term 'employee' is changed to 'worker', making it even clearer contractors and volunteers need to be included in safety plans.
"While contractor administration is time consuming, management systems are now available that allow for contractors to maintain their own records while the contracting company stays in control," says Mr Manessis.
myosh, which is recommended by the National Safety Council and The Industrial Foundation for Accident Prevention, is the principal corporate sponsor and one of more than 150 exhibitors at the WA Safety Show at the Perth Convention and Exhibition Centre from August 7-9.
"Regardless of the size of the firm, compliance, meeting legislation and demonstrating due diligence will be difficult without the use of safety management software to automate the processes," says Mr Manessis.
"Contractor management is just one of the processes safety management software can automate. Firms need to act decisively to get these processes bedded in."
This year's WA Safety Show again focuses on technological innovation. 
Visitors will have an opportunity to network and learn from industry experts via interactive live demonstrations, dedicated feature areas, free seminars and workshops.
According to organizers, this will be a 'must event' for OHS managers and officers, risk managers, production managers and logistics managers, as well as those in charge of warehouses, quality assurance, project management, maintenance, plant, building construction and maintenance, HR, rehabilitation, occupational therapy and emergency services. 
Visitors will be updated on new Harmonisation Workplace Health and Safety laws, including employer responsibilities and employee rights. 
Australian Exhibitions & Conferences
Ph: 03 8672 1200