How to create extra floor space
31-08-2010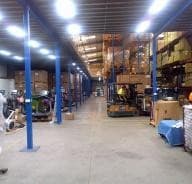 Using selective pallet racking is a cost effective and flexible way to construct the framework for a raised storage platform, also commonly known as a Mezzanine or Raised Storage area.
It is especially suitable where racking is required beneath the floor.
That means shelves below can be utilized for storage while frames and top beams are used as the sub-structure for the floor above.
Alternatively, the frames can run through the floor to create shelves above the floor and the floor used as a second picking level.
Handrails with pallet loading gates are fitted to all exposed edges to comply with safety regulations.
And staircases or goods lifts can be fitted for easy access and ergonomic use of the raised floor.
Dynamic Warehouse Solutions provides innovative storage solutions for productive workplaces and can help you to maximise warehouse space.
Dynamic Warehouse Solutions 
Ph: 1300 668 468.