How cooling can increase productivity
01-10-2013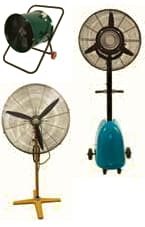 The Fanmaster range of cooling and ventilation products are designed for industrial and commercial applications, with the comfort and safety of workers paramount.
Lack of productivity in the workplace increases exponentially during the summer months in Australia as temperatures soar. It is not uncommon for some workplaces to hit the 40°C mark.
If a heatwave hits, worker productivity levels can drop dramatically – as well as increased stress levels. Studies have found productivity can drop by 20 percent during the summer period.
The need for increased ventilation and cooling during these periods is therefore essential.
To lessen the impact Fanmaster provides an extensive range of industrial wall and pedestal fans, designed to suit every market.
From their small, effective and quiet 450mm range to the largest pedestal and wall range on the market the 850mm, Fanmaster can provide a cooling solution.
This season, Fanmaster has also introduced the first in a range of Safety Fans. This includes a 750mm pedestal fan with a high visibility yellow colour, wide span base and non-slip feet. The 750mm safety fan has a long 5m power cord and integrated wrap, combined with a generous 4800 L/S output.
Coupled with its range of Misting Fans and Mancoolers, you can't go wrong with Fanmaster.
And for larger industrial factories, Fanmaster manufacture high quality roof and wall ventilation products.
When combined with the airflow from the fan range, this will significantly increase worker comfort.
So next time you see your workers struggling in the heat, think about the affect it is having on your business.