How collaborative robots can power sustainable manufacturing practices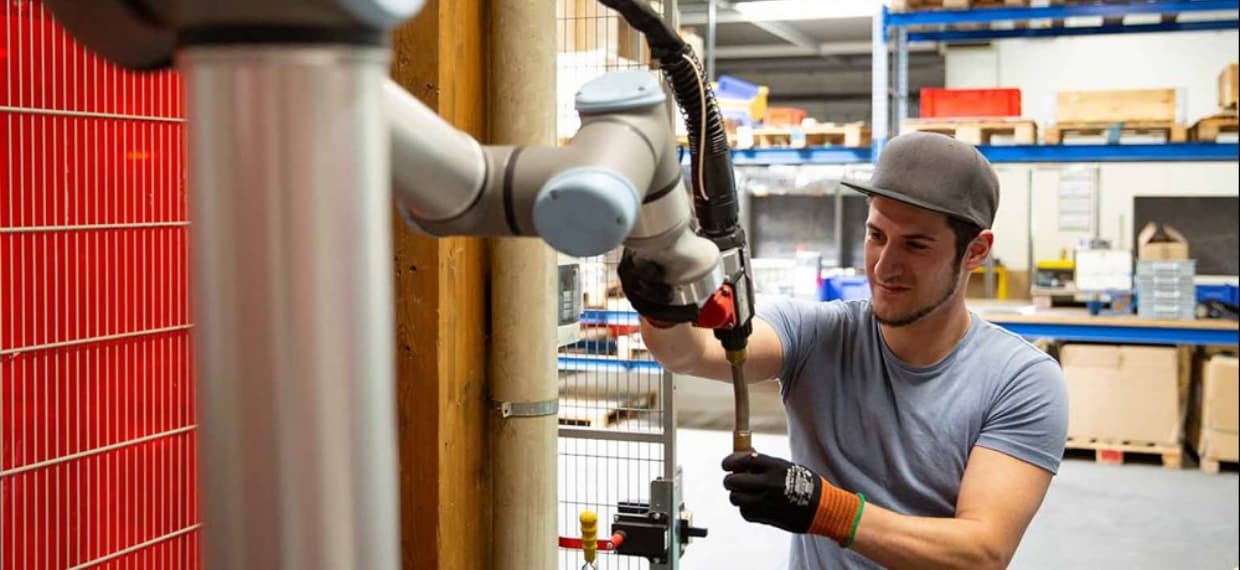 Sustainability ranks high on both the global and political agenda as many countries continue to set bold energy and emission targets. These commitments have companies around the world prioritising their sustainability efforts to help fight climate change, and this movement is set to soar in 2022.
Universal Robots is working to make its own working practices and production more sustainable. With this in mind, James McKew  Universal Robots Asia Pacific regional president James McKew has some answers to the question: "What makes a manufacturing process more environmentally 'sustainable'?"
"Well, if you ask 10 different manufacturers around the globe, you are likely to get 10 different answers.  However, when it comes to the use of robots that can work safely alongside humans, fondly dubbed as cobots (collaborative robots), some common themes unite the ever-growing list of sustainable manufacturing initiatives."
Amongst these, the following initiatives are most tangible and are ranked as follows: 
Waste reduction
 Energy consumption
Space saving production processes
Reshoring initiatives
McKew highlights five ways that cobots help to improve customers' footprints as follows:  
Reducing waste
"As part of our commitment to eliminating defects and waste during the manufacturing process, we recently deployed a UR3 cobot at Italian power tool maker RUPES to help achieve its 'zero defects' production target,"  McKew explained. 
This deployment resulted in reduced waste, lowered operating costs, enhanced productivity, improved working conditions as well as the allocation of workers to higher value tasks.
As the RUPES example shows, one of the most effective ways to reduce waste is to improve the quality of your manufacturing procedures.  
Reduced energy consumption 
By means of remote monitoring and access, companies can now reduce their energy consumption. 
The UR+ ecosystem supports digitalisation with a wide range of remote monitoring and access solutions. 
Typically accessible via tablet, PC and smartphone, these tools provide a wealth of information on KPIs that can then be used to tweak the cobots' performance, resulting in improved production efficiency and reduced electricity consumption. 
Environmentally friendly footprints
Traditional automation typically boasts a large footprint and requires that numerous changes be made to the layout of a production facility. In a recent success story, Thailand-based company, Benchmark Electronics deployed four UR5 and two UR10e cobots to help improve their operational efficiencies by 25%. This also saved them 10% manufacturing floorspace. 
Bringing production home
Minimising the distance involved in supply chains reduces transportation costs and is better for the environment. Coupled with uncertainty about the resilience of global supply chains, these environmental concerns have spurred reshoring efforts. 
Maximising energy efficiency in cobot deployments
Generally speaking, cobots are more affordable and consume less energy than their traditional robot counterparts. There are very simple steps manufacturers can take to minimise energy consumption in their cobot-powered applications; running your cobot at 70-80 percent of its maximum speed and payload, where possible, will reduce energy usage and extend the lifespan of the cobot. And when it comes to application design, make sure to consider path optimisation strategies as this will also reduce electricity consumption when the cobot is up and running.