How to beat rising energy costs
11-07-2013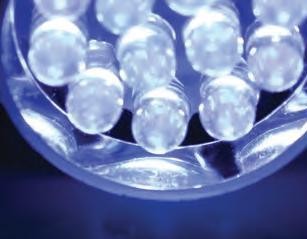 With the continued rise in energy costs impacting businesses across Australia, investing in energy efficiency makes more sense than ever.
Energy is a significant controllable cost for every manufacturing business and the more energy you save in your business the more profitable you can be.
Energy efficient lighting is an obvious starting point for businesses looking to reduce energy consumption and demand across their business. Return on investments can be attractive, energy savings can be significant and lighting, while a critical "hygiene" factor, is a reliable and easily quantifiable investment.
Since the 90s there has been a slow uptake in increasing lighting energy efficiency, which has been driven by environmental awareness and the opportunity to improve the lighting experience.
Energy Action, a leading independent energy management company, says with soaring energy prices it is vital for businesses to urgently implement lighting solutions.
"Energy efficient lighting is increasingly being sold as a commodity product, but quite rightly, the lighting experience is a sensitive issue for many buyers", said Ed Hanna, director of sustainability at Energy Action.
"Industrial and manufacturing plants historically have been illuminated by mercury vapour and metal halide lights, Mr Hanna says. "By comparison to modern alternatives, these are an expensive option to operate when it comes to lighting factory floors. Lighting is an essential need for all businesses, and any decreases in quality, reliability, safety, or the look and feel of lighting can have a significant bearing on core operations. In recent years, the development of induction and LED lighting can now provide a real opportunity for businesses to move towards a more efficient lighting strategy."
Energy Action offers five tips for the manufacturing industry looking to retrofit energy efficient lighting:
1. Examine your options before you commit to a technology
Lighting and control technologies are dynamic, and are evolving quickly. Assessing the market can be time consuming and complex. Think about what is best for your company in the long term.
2. Consider the needs of all stakeholders
Lighting levels, beam angles and colours will determine your stakeholders' lighting experience. Make sure that you are aware that interior lighting for retail and commercial purposes comes in a range of light levels, colour spectrums and output shapes for different purposes.
3. Invest in lighting controls
Occupancy sensors and daylight sensors can lower your energy bills, particularly in low traffic areas such as stairwells, meeting rooms, utility rooms and car parks. Intuitive and locally controlled lights are becoming increasingly cost effective for these environments. Use flexible lighting solutions in areas that are not constantly in use, e.g. shift work. Most current energy efficient alternatives allow you to dim or turn off areas when not in use, without worrying about long warm up times.
4. Make informed decisions when choosing suppliers
Choose your suppliers and installers on recommendation referrals, experience and reputation, as well as price. Always check your warranties, lead times and service expectations before you place an order. If you can't find a lighting salesman you trust, get a lighting market consultant to guide you.
5. Have light intensity that suits each individual work area's needs 
Optimising energy efficiency means delivering the right amount of light to the workspace. You can do this through the right combination of fittings, lamps and controls.
Taking all of these into consideration will ensure that your lighting strategy will successfully reduce energy use, lower energy bills and reduce the carbon intensity of the business.
Energy Action
(02) 9633 6400