HOW AUTOMATION CAN IMPROVE WORKPLACE SAFETY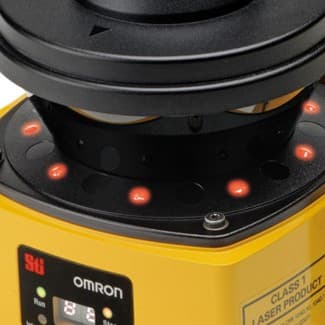 The most effective way to improve workplace safety and reduce the risk of injury is to cut the time workers must spend in hazardous areas.
And this can be achieved through automation and new technology, says safety expert John Merrett.
Mr Merrett, product manager for safety at Omron, a leader in automation and workplace safety, says unfortunately most employers don't invest time and dollars into improving safety for workers.
"Many companies don't invest in safety, Mr Merrett says. "They believe it will adversely affect their productivity."
But in actual fact it can improve productivity, he says.
"Many employers only look at safety when it's too late – usually after someone has been hurt – and that's a serious issue."
Mr Merrett says an education campaign is needed to convince employers that safety is the most important element when operating machinery.
Employers should think of machine operators as members of their family.
"I'm sure that would put a different light on it."
They should also understand that by investing in making machines safer, they will save money in the long run.
Mr Merrett says automation and technology hold the key to a safer workplace.
"By using automation you are getting the (machine) operator out of hazardous areas – you are reducing their exposure to dangerous situations.
"And that must be a good thing."
When you reduce the need for human intervention you reduce the potential for injury or fatalities, says Mr Merrett.
But many employers are not taking advantage of new workplace technology.
"Some don't want to spend the money," Mr Merrett says.
"I see so much machinery in the workplace that is 30 or 40 years old with no guarding or other safety features.
"And because it was built that way originally, employers don't believe there is a need to guard it.
"They have the attitude that because the machine has been running for 30 years and nobody has been hurt, it must be safe.
"But in reality nothing could be further from the truth – the operator and those around them are at risk.
"Any machine has the potential to cause harm and therefore must be guarded."
Companies that ignore workplace safety face many hidden costs, Mr Merrett says. "They are running the gauntlet.
"If a staff member is hurt, employers are faced with Workers Compensation payouts and lost productivity.
"They may also face big court costs, legal fees and increased insurance premiums."
Mr Merrett says a workplace fatality can be devastating for employers and employees and their families.
"Employers that are negligent can face up to five years' imprisonment as well as fines of up to $600,000 for individuals.
"And for companies, the fine can be up to $3 million.
"This could close a small company – or a even big one."
"Therefore, it's in an employer's best interests to ensure a safe working environment – it's like an insurance policy."
Mr Merrett says employers have been slow to embrace new technology, but the situation is changing.
"They now realize that by adopting new technology it gives them an advantage over their competitors," he says.
Technology has changed significantly in the past 10 years to help improve workplace safety, he says.
"Companies like Omron have a strong focus on safety – their products have become a lot smarter.
"For example, Omron light curtains offer unique features such as Preset Reset and Dynamic Muting designed to improve workplace safety.
"These measures provide added safeguards to reduce the risk for operators and staff.
"At the same time they increase efficiency by reducing downtime.  
"Companies now find they can get a quick ROI (return on investment) by investing in this type of technology through improved productivity."
And with recent advancements in safety standards, such as ISO 13849-1, electronic programmable safety controllers can now be used.
This means safety features are now much easier to configure and to subsequently change if required.
And this in turn can be integrated with the rest of the (programmable) control system, which further improves safety.
Mr Merrett says automation they can minimize the need for manual handling – and greatly improve safety.
"Workers that are stooping and lifting products face serious back injuries," he says.
"By using robotics for example you can minimize manual handling and reduce heavy lifting and the risk of accidents.
"It also gives workers a better working life if they are not required to lift and move heavy objects.
"And workers can spend more time in other operations while machines carry out the heavy lifting."
Robots don't provide a total solution, but they are a great start, says Mr Merrett.
"You still have to have some human intervention, but you will certainly reduce the risk of workplace accidents and injuries."
Mr Merrett is confident Australian workplaces will become much safer in coming years.
"New safety standards were introduced in Australia and New Zealand last year designed to further improve workplace safety.
"Our safety standards are now among the best in the world."
Mr Merrett would like to see greater collaboration between industry and research institutions when it comes to workplace safety.
"There is no reason why they shouldn't work together to improve safety – that would be a great thing." 
Mr Merrett says safety should be a key element of research and development (R&D) when designing machines.
"The main focus now seems to be 'how do we make the machine work' rather than how do we make it safer.'
"Safety should never be an after thought," he says.
"It's cheaper in the long run to design safety into machines rather than have to add safety features later.
"It is vital to protect operators and everyone around the machine – without compromising productivity.
"That's what it's all about."
*Based in Melbourne, John Merrett is Product Manager for Safety at Omron. He conducts safety seminars and provides training for customers, distributors and staff as well as technical support.