How 80/20 can make your show display shine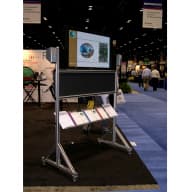 Planning to showcase your products and services at a trade show next year?
Then 80/20 Australia can help.
Sydney-based 80/20 Australia specializes in T-Slot aluminium extrusion, offering an endless list of applications.
They can provide innovative solutions tailored to any industry or application, including "out of the box" solutions to benefit your imagination and creativity. 
Your trade show booth or product display can be made more attractive by utilizing the wide range of accessories available from 80/20. 
If you want to extend your trade show booth investment with a modular and long lasting design, you should consider 80/20 framing products for your next trade show booth or product display.
With 80/20 Australia's T-slot aluminium extrusion, you can get a contemporary matte aluminium finish to match any professional aesthetic.  
In addition, the nature of the T-slot profile makes it an attractive option for any permanent or temporary product display. 
The modularity of 80/20's lightweight profiles makes for easy breakdown and rebuild if desired.  
Importantly, only basic hand tools are required to assemble and disassemble any T-slotted profile, allowing for easy transportation. 
And the materials used are durable, rust-proof and easy to maintain. 
80/20 Australia
Ph: (02) 9838 9900