HOW A 'TOY HELICOPTER' COULD SAVE YOUR LIFE
21-07-2015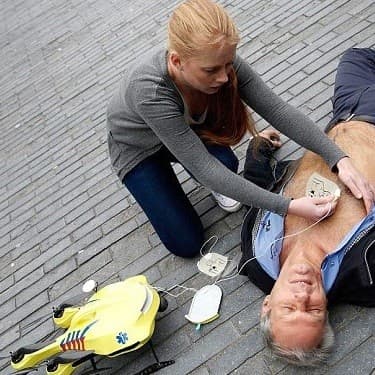 In a world that's constantly evolving, it makes sense for technology to be one of the trends reshaping our health.
From tracking and monitoring devices you can wear as a watch to smart phone alerts and automated phone calls prior a heart attack, the future of first aid is positively boosted by the technology we have today.
And why shouldn't it be? With over 1.4 million Australians affected by cardiovascular disease, a leading cause of heart attacks and strokes, and ambulance emergency calls on the rise; it makes sense for us to have all the tools we can to prevent something happening.
The future of first aid has boomed even further though, with a Dutch engineer creating a flying defibrillator for emergency situations. Introducing the Ambulance Drone.
What does the Ambulance Drone do?
Whilst this fantastic invention may look like a toy helicopter, it's a life saving device that does more than just "fly".
Consisting of the defibrillator, webcam and a loudspeaker, the Ambulance Drone allows remote doctors to walk people through the emergency scene.  
As the doctor steps you through how to use and prepare the electrodes and the defibrillator, it assures that each step is being done properly.
Developed by engineering graduate Alec Momont, the purpose of this flying life saver is to reach the emergency scene before brain death and fatalities occur.
"Around 800,000 people suffer a cardiac arrest in the European Union every year and only 8 percent survive," explains Momont.
And whilst the use of senior first aid training can help to prevent further damage to the patient, enabling the Ambulance Drone to fly a defibrillator to the patient within a 12 square kilometre zone in only a minute.
This is much quicker than emergency services can get to the patient and can help anyone – regardless of whether they have had first aid training or not – use the device and help to keep the patient in a comfortable position until further help arrives. 
Why the Ambulance Drone is essential for saving lives
The best part of this device is it can fly to you and the emergency situation at speeds of up to 100km per hour.
Stationed at very points in the city, the Ambulance Drone can be called in and arrive just a few seconds later – much quicker than the time it would take for an ambulance to get there.
The purpose behind this amazing invention is to reduce the trauma to the patient in those life changing few moments.
In most cases, it can take up to 10 minutes for an emergency response team to get to the scene and work on the patient and brain death and fatalities can occur within 4-6 minutes of a cardiac arrest.
If there is no immediate access to a first aid kit or defibrillator in this time, the patient can fall into cardiac arrest and the aftermath of this can cause devastating effects.
With a faster response time the chance of survival to the patient can increase from 8% to 80%, saving a huge amount of lives.
According to the man behind the invention, 20% of people can operate a defibrillator without instruction.
These people have probably had access to senior first aid training, but what about the rest of the public? This figure only rises with the help of having prompted instructions from trained personal for absolutely anybody to follow. 
Whilst the system is still in prototype stage, having access to a flying defibrillator is definitely a lifesaving invention. It could still be a good few years off though, with an estimated cost of $20,000 per unit.
The idea has already got the tick of approval from The Dutch Heart Foundation, with a further suggestion by the engineer Mr Momont to turn his drone into a "flying medical toolbox" that will be able to carry an oxygen mask, insulin injector and other essential basics. 
By Mark Partridge*
Mark Partridge, is the Director of Training Course Experts, Perth's leading training provider for forklift, senior first aid and a number of high quality safety training courses for the professional.