HOSES MEET THE STANDARD FOR UNDERGROUND WINCH UPGRADE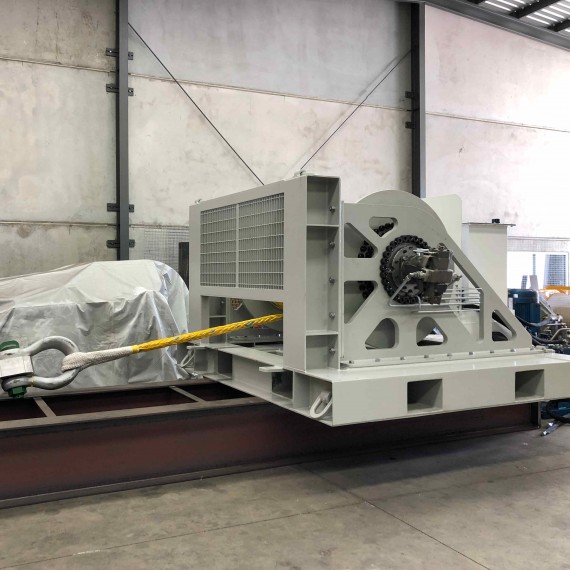 A company dedicated to ensuring the total safety and standards compliance of winches has enlisted Hydraulink to provide and install hydraulic hoses and fittings optimised by expert hydraulic engineering in an innovative underground winch developed for mining leader BHP.
BHP called on Australian Certified Winches (ACW) to design a winch that could haul twice the capacity (100t) within the same physical space as the previous 50t winch, in one of its major Australian underground mining operations.
"The solution was to integrate two 350,000Nm wheel drives inside the winch drum," said Grant Barrett, Director, Australian Certified Winches, who has more than 25 years' experience in designing and building industrial winches.
"The winch is to be used to remove longwall machines once the longwall is finished and being moved to another seam. Current methods involve the use of hydraulic cylinders, but these can be limited in stroke length, meaning a lot more time rerigging the haul rope. The winch has 300m of rope, allowing for a continuous haul," said Barrett.
ACW focuses particularly on ensuring winches are suited to the particular task, and have the correct documentation and certification to operate under any appropriate regulations.
"The new winch has an onboard closed loop hydraulic system that is driven by the underground emulsion fluid, so we needed expert hydraulics assistance in engineering the winch for underground use," said Barrett.
"So we contacted Hydraulink, and their team ensured all hydraulic hoses and fittings were MDG-41 compliant – including all testing and reporting – which is a requirement for any machinery being used in underground mining applications," he said.
Mechanical Design Guideline 41 (MDG-41) outlines safe working practices for the manufacture and assembly of high-pressure hoses and fittings, including hazard identification, assessment, elimination and reviewing of risk.
As a leading hydraulic hose, fittings and service specialist with more than 400 service points across Australia, New Zealand and Oceania, Hydraulink regularly supplies hydraulic components that comply with local standards.
"The service from Hydraulink was fantastic. They were responsive, practical minded, safety oriented and worked well with my team. I'll be looking to them for any future Hydraulic hose, fittings, adaptors or service needs," said Barrett.
Adrian Burgess is Hydraulink's Area Sales Manager for Queensland, and he was delighted to be able to help ACW on this innovative underground mining project. "I was impressed with ACW's standards and safety compliance focus, and the solution they came up with for this new winch was an outstanding piece of engineering. We were happy to be part of this project and to work side by side with another company that values safety as highly as we do," he said.
"To make service and maintenance simpler in the future, we've set up all the hoses and parts used in this winch with individual part numbers in our system. If ACW need to replace a part in the future, we'll have all the specifications on file, ready to go," added Burgess.
The new winch has now been factory tested using a 150t load cell and shackles, where it pulled 120t with ease.
Hydraulink
1300 36 37 34
www.hydraulink.com.au